Stop spending money on patterns that don't have everything you want.
Learn to draft your own so you can build your own custom library of leggings patterns and activewear at a fraction of the cost.
It's easier than you think!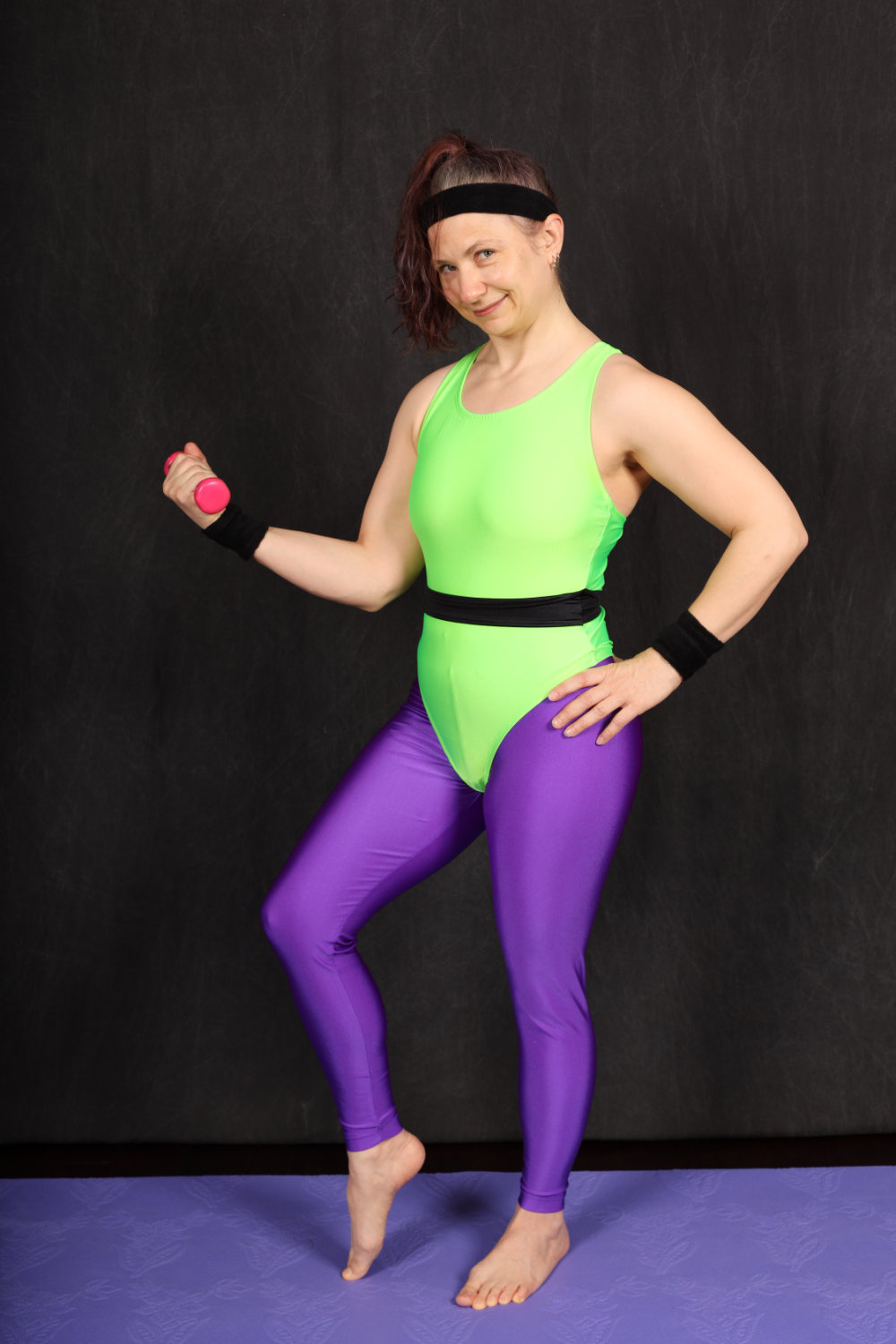 Commercial and even independent sewing patterns assume your body is shaped like some "average" body. The reality is NO ONE is exactly Average. So, pattern companies decide what proportions to use, and how to resize the pattern they start with. Then they need to decide how many size options they will offer, and what the size gap will be between the sizes.
Then, they must choose what styles they will include in the pattern envelope. This usually translates to 2, maybe 3 length options, and maybe 2 different waist options.
Or, they toss in a basic legging like this with a hoodie, jacket, or tunic pattern, in which case they usually give you one leg-length option. And that's it because the focus of the pattern is on the top.
To get a variety of styles, you need to buy a ton of patterns.
Draft (& Sew) Custom Fit Basic Leggings
Get the fit you want using your own measurements, proportions and preferences.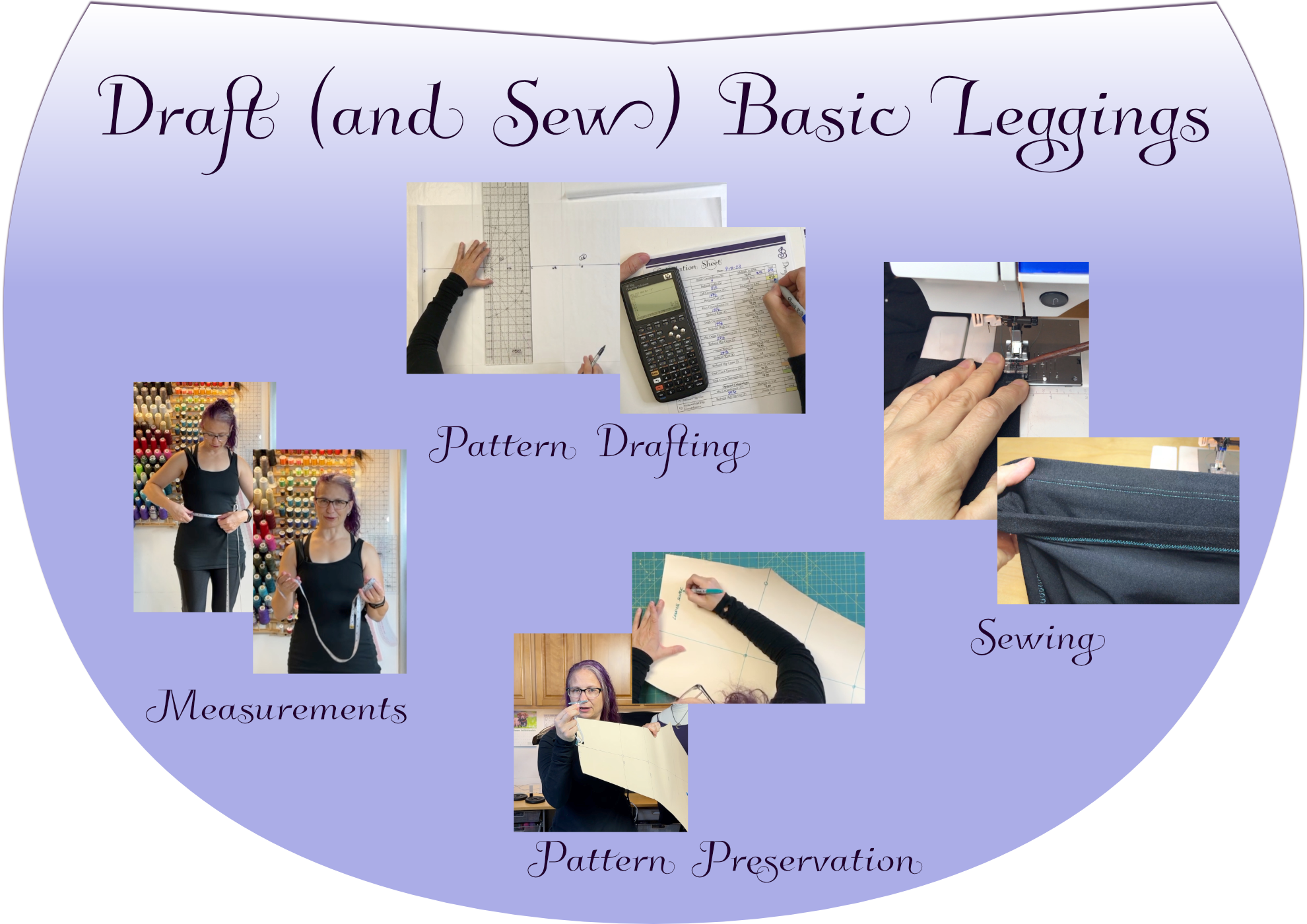 Get the styles you really want.
Measure yourself to get a custom-fit legging for your body. Learn what measurements are used where, and why. You'll also learn how to adjust your pattern for your own comfort and fit preferences.
Learn how to draft leggings with 3 Rise-heights and 7 leg lengths. No simple legging pattern has this much variety. (Though, technically, the options are limitless and based on your personal preferences).
Do you want a close fit for working out? Do you want more compression for shapewear-like fit? Or are you looking for a semi-close-fit legging to lounge around in?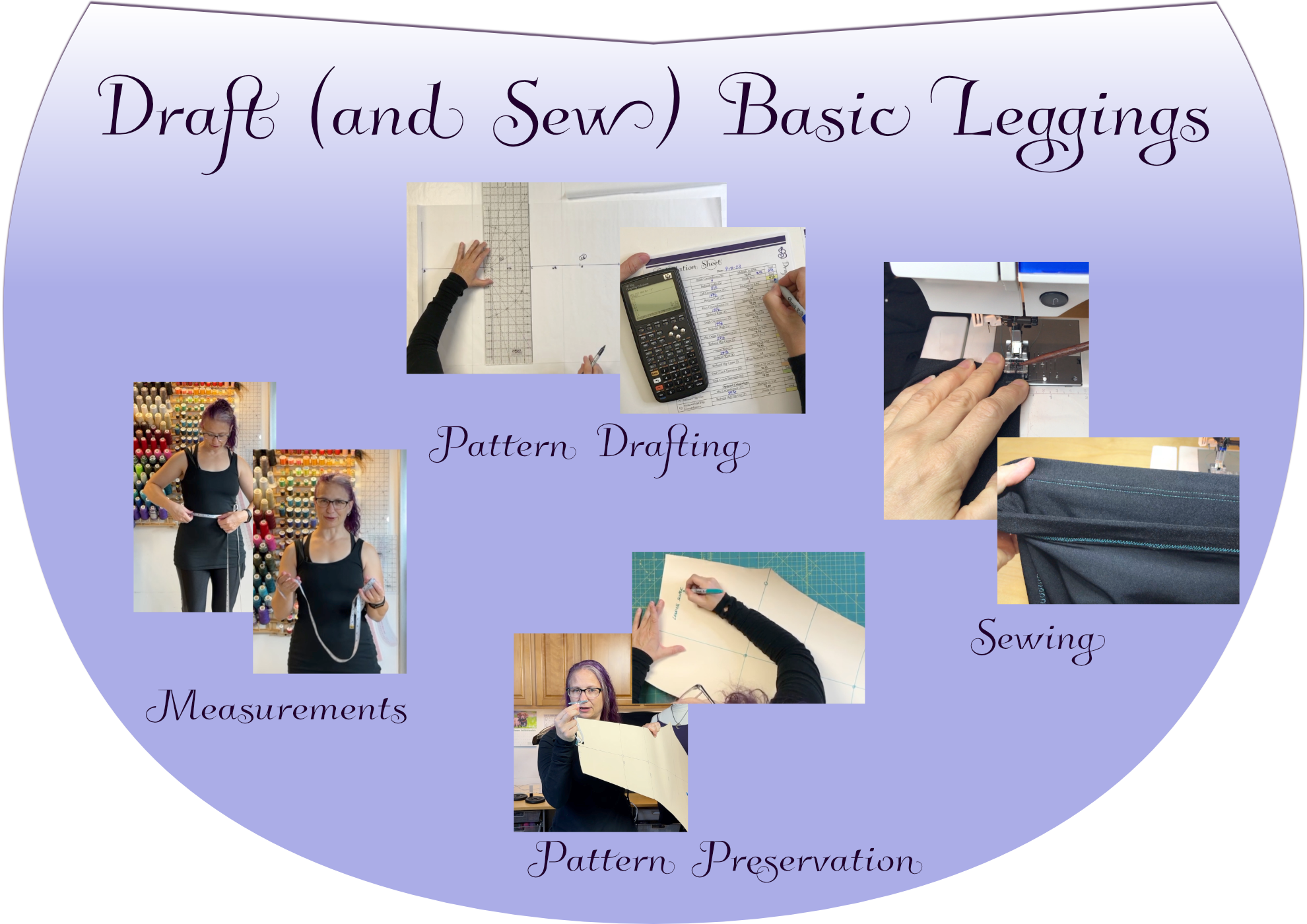 Expand your Skillset
with Pattern Drafting
Learn how to draft, and fit a simple pair of leggings so that you can build your pattern library and your wardrobe with your own creations.
All the Basics of pattern drafting (and more)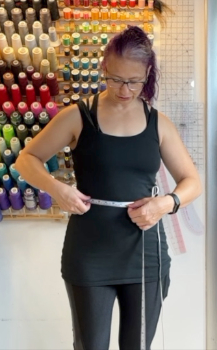 Getting good measurements is paramount to drafting a good pattern. Learn what measurements you need and how to take them. I even toss in some tips for getting decent measurements if you have to do it solo.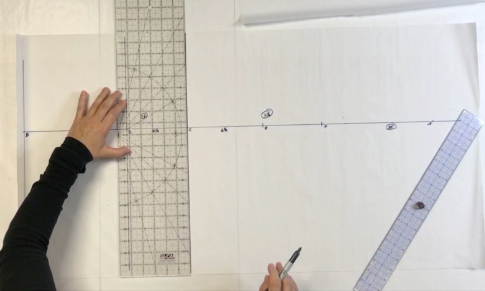 Learn the basics of drafting a legging, including best-practices, and industry terms. Auxiliary to this, you'll also learn about stretch fabric and how to choose for your pattern. Or, perhaps, how to draft your pattern to the fabric of your choice.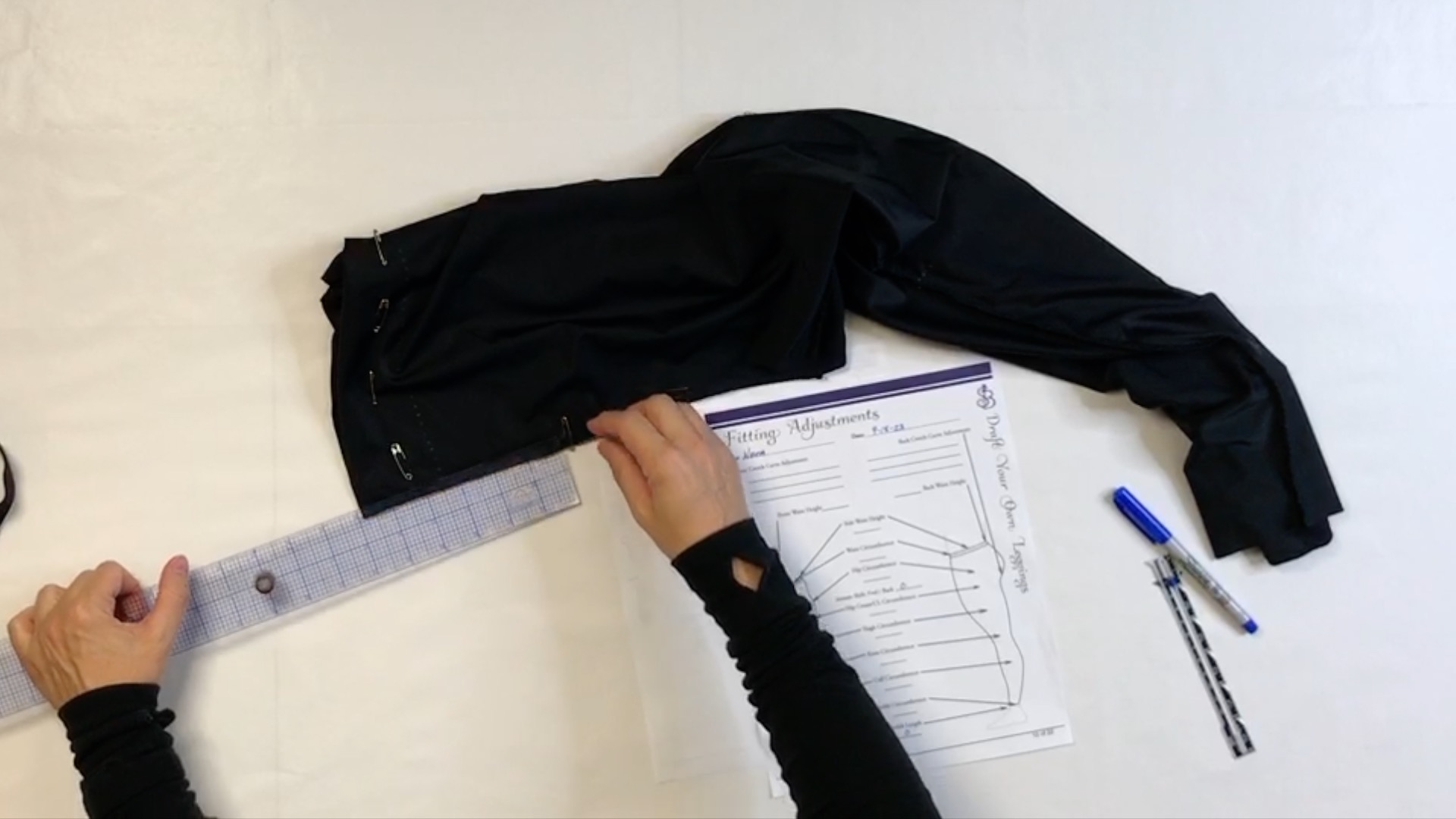 There are two types of customizations that you'll learn. The first is how to make the initial draft fit YOU better, or more to your liking. And the second is how to draft some common, variations in leg length and rise height.
Over 6 hours of instruction, countless tidbits, and hints for measuring, drafting, and sewing.
Body Measurements are the cornerstone of both choosing a pattern and drafting a pattern. Even if you just want to purchase a pattern, you'll need some measurements. learn how to measure yourself, solo if necessary. Use the included course materials to document your measurements for future reference.
Fabric choice can make or break a garment. Learn how to choose the fabric for your legging, including measuring stretch percent. Your fabric choice will influence how you draft your pattern. You'll learn why and how, and how to adjust your pattern if needed if using a different fabric down the road.
Pattern drafting uses different tools from just sewing. You'll learn what is needed, and optional for measuring, drafting and creating a sloper. You'll also see some of my favorites, including rulers and paper.
This is what this course is all about, how to draft a pattern. You'll learn some best-practices for getting a good initial draft. You'll also learn how to make your initial draft into a sew-able pattern. This includes truing, pattern marks, and seam allowances. Plus general guidance on drafting hem allowances and a simple elastic waist.
A sloper is an awesome thing to have if you want to use your basic leggings draft to create a variety of styles including some more advanced styles not covered in this course. If you want to make fitted dance pants, leggings with pockets or funky style lines, you'll want to create a sloper so you don't end up ruining your legging patter when you add to your style collection.
While I could just assume you know how to sew up leggings. I'm not. I've included a bonus chapter with step-by-step instructions. You'll need to know this to create a test fit as well as a final garment.
BONUS: Not Just Pattern Drafting
Pattern drafting is one thing. Sewing is another.
I've included a bonus chapter with detailed sewing instructions for your custom-fit leggings. While this legging is a simple-to-sew pattern, it is for stretch fabrics.
I cover what to look for in your sewing machine or serger manual for appropriate stitches. I discuss options if you don't have a sewing machine with an overlock, a serger, or a twin needle. There is no need to own a serger to complete these leggings, I sew the entire legging on my sewing machine with no fancy attachments, just a twin needle.
I cover thread choice AND needle choice for sewing a legging. The fabric I use is a nylon/spandex blend, which is a basic swimsuit-type fabric. You get to see it all.
Enjoy these Course Features
I currently use the FreshLearn platform for my courses. If that should change, I will continue to look for a platform that offers the same or better student experience.
Sewing is fun. But not everyone has time every day for a certain number of hours per day to work on a project.
I get it.
Go at your own pace. Repeat lessons.
Pause, Rewind, Replay.
Work on the course when you have time to work on the course.
With your one-time payment, you will have access to this course as long as I can keep technology available for you to access it. 
Unlike other courses, your access doesn't expire. If, for some reason, I have to take down the course, you'll be given a download option.
I'm just a comment or email away. Throughout the course, you have the option to leave comments (and ask questions).
Chances are, if you have a question, you aren't the only one.
If you aren't comfortable leaving a public comment, you can email me with your question.
Check out the list of lessons. There's almost 7 hours (6.9 hours) of video instruction. Plus you get a printable download.
Course Introduction
Course Introduction and Download
Taking Measurements
Chapter 2 Introduction
Tools Needed
Measurements Needed
Tips to Measure Yourself
Fabric Stretch and Negative Ease
Calculations Needed
Drafting the Legging
Chapter 3 Introduction
Materials Needed
Making the Initial Draft Part 1
Making the Initial Draft Part 2
Draft a Test Fit Pattern
Making a Mock-Up — Tips
Pattern Adjustments for Fit
Chapter 4 Introduction
Evaluating the Mock-up for Fit Part 1
Evaluating the Mock-up for Fit Part 2
Drafting the Adjustments Part 1
Drafting the Adjustments Part 2
Preserving Your Patttern
Chapter 5 Introduction
What is a Sloper?
Paper and Storage Options
Finalizing the Sloper
How to Transfer (to Tag)
Length and Rise Modifications
Chapter 6 Introduction
Rise Modifications
Leg Length Modifications
Finalize Your Sewable Pattern
Course Wrap-Up
Chapter 7 Introduction (What's Next)
Bonus: Sewing Simple Leggings
Chapter 8 Introduction
Cutting the Fabric
Sewing the Legs and Crotch
Finishing the Elastic Top
Hemming the Legging
Frequently Asked Questions (FAQ)
Does the Class Expire? Will I lose Access to the Content?
No. The class doesn't expire. I want to say this is a forever class or "lifetime" access. But I cannot promise technology over that kind of timeframe. What I can promise is that, should technology get wonky, I will do what I can to make the content available to you "forever".
Is there a time limit to complete the course?
No. You can go at your own pace. You can skip lessons you don't need, you can rewatch lessons you want to see again. And I will help with questions that you put in the discussion to the best of my ability.
And you can come back to the course time and time again to make many different tote bags.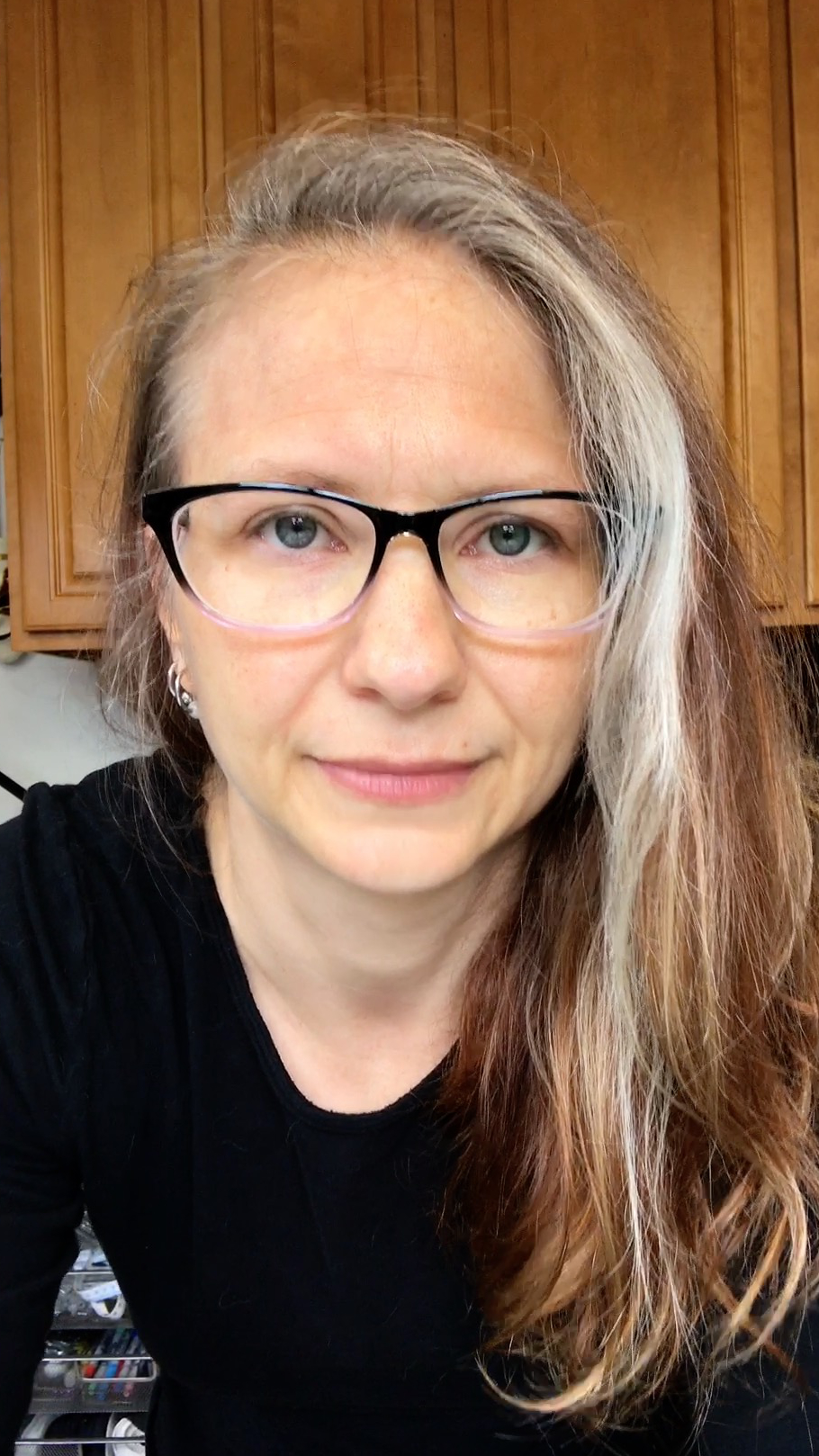 I've been sewing for decades, and have developed a somewhat obsession with pants. I struggle so hard to find pants that fit me in stores. Leggings are easier, they stretch.
In addition to wanting pants that fit (which seems like such a tall order), I also want pants that fit my personal style.
And that is a tall order. I rarely see exactly what I want, in stores. Affordable.
So, I decided to learn how to make them myself.
And that meant learning pattern drafting to get me to the point where I can at least make clothes for me that fit.
But also learning how flat patterns "work". There are parts of flat patterns that just aren't intuitive for me, so I have to really think about how they are supposed to wrap around the body and fit all the curves.
And I love pushing myself to figure out how to make fun or.. creepy… bottoms. I especially want pants, with pockets that are Useful. And that goes for my leggings as well.
I can't wait to meet you, and help you on your journey as much as I can. This is just the beginning.
I have used a basic-legging pattern as a spring board for many different dance and activewear designs.
It's amazing the different styles you can make from a simple pattern.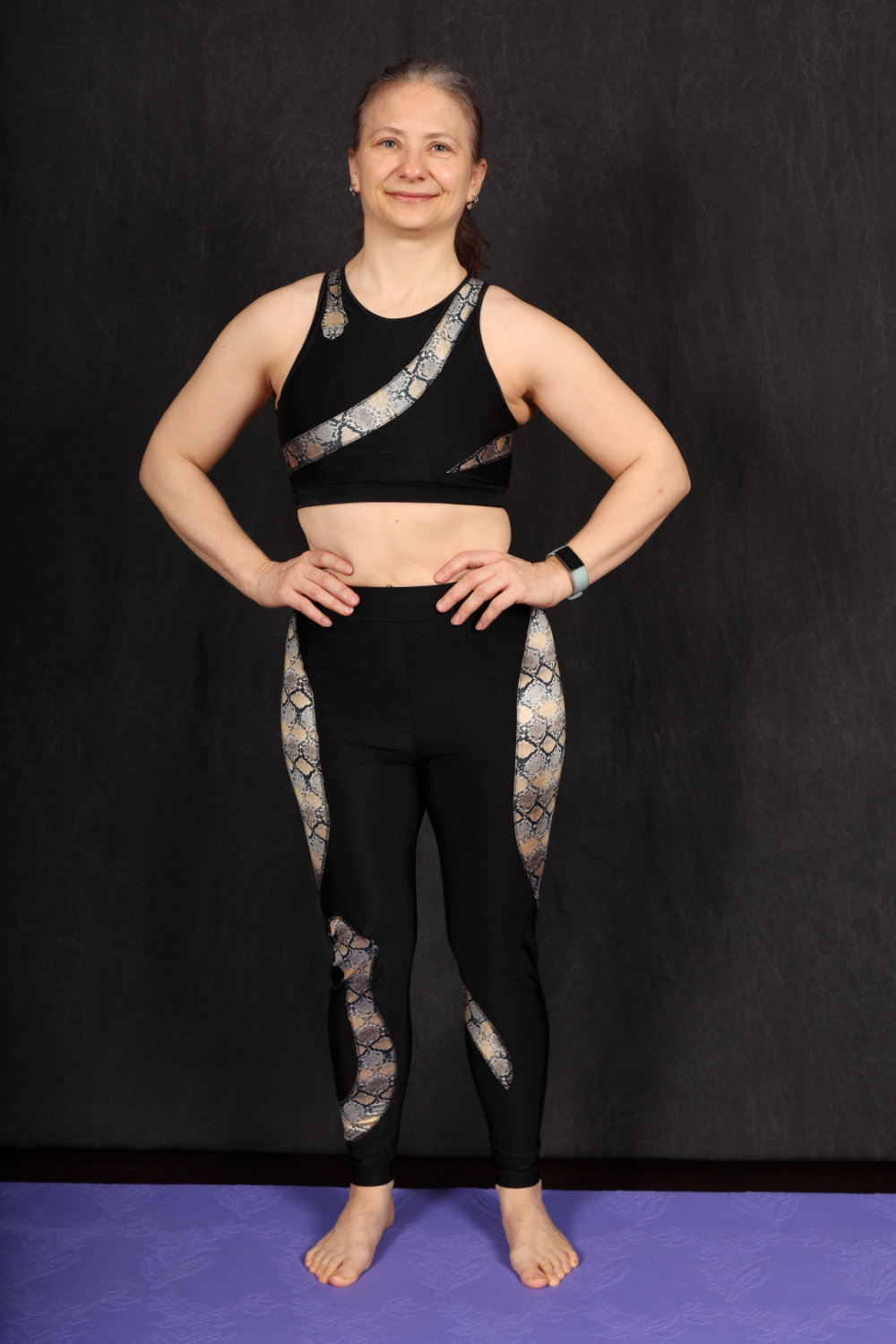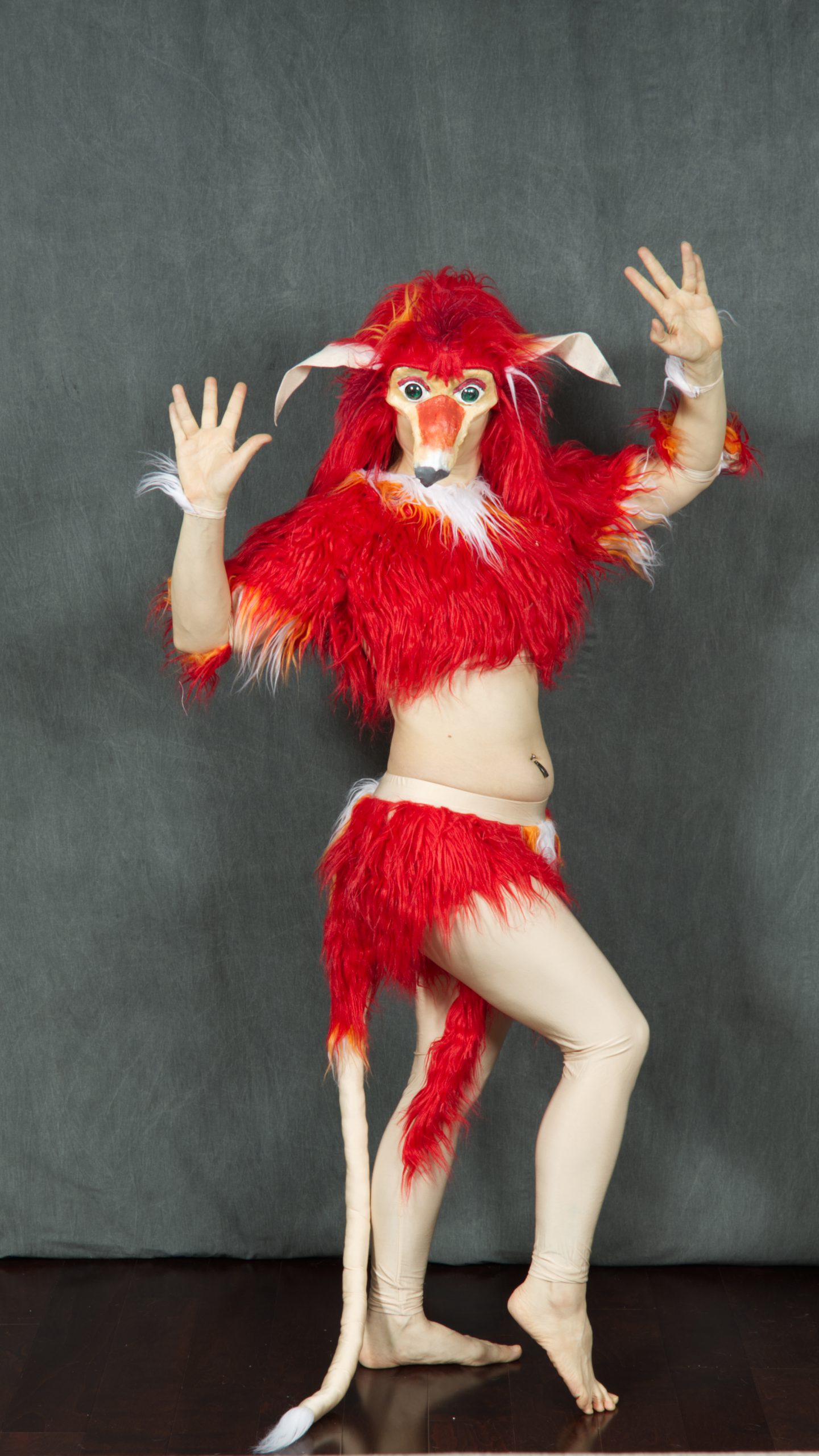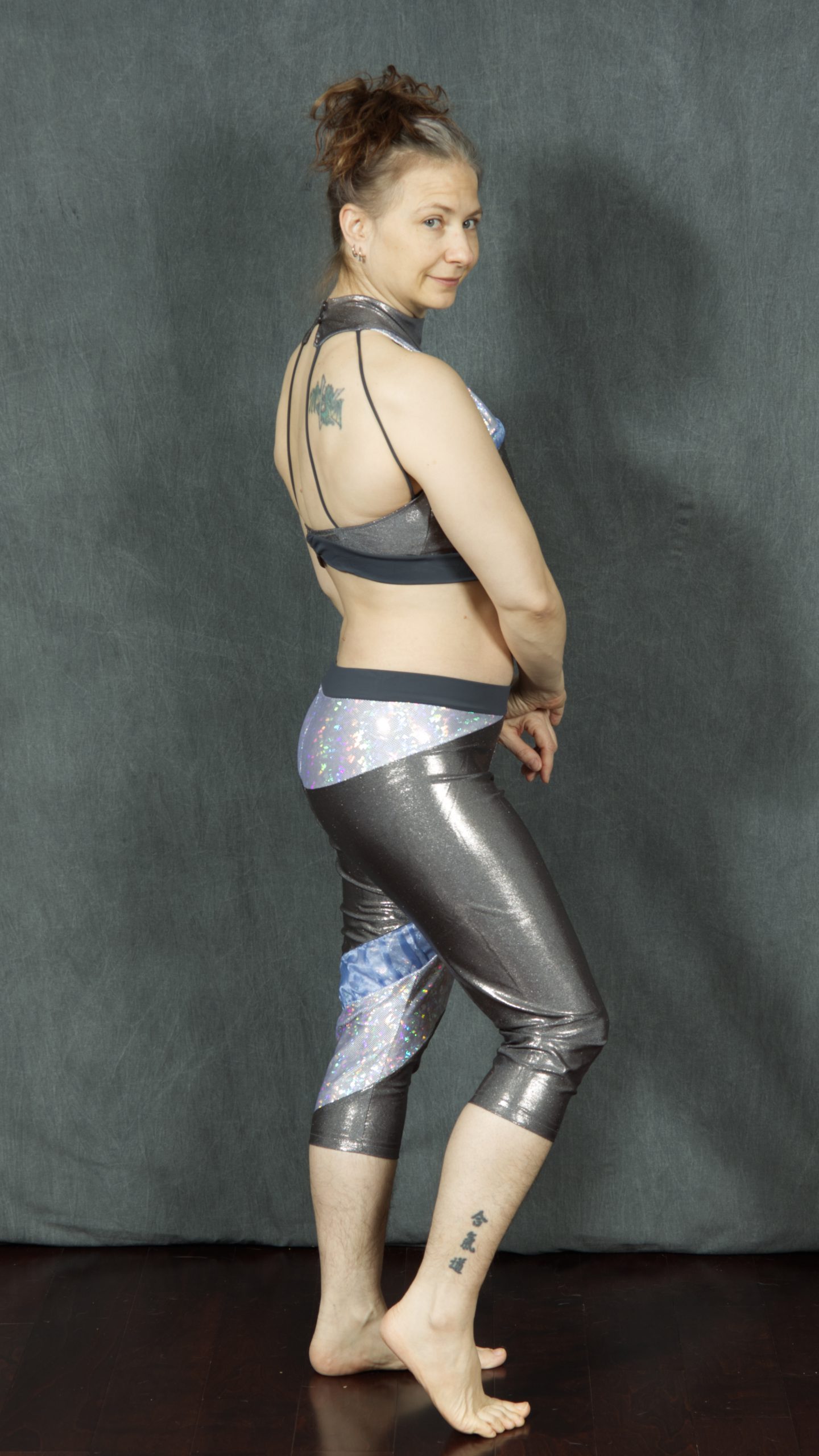 The catch is, you need that simple pattern. And while I bought mine years ago, I haven't had any luck recently finding a simple legging pattern from any online pattern retailers.
All the styles I found have style lines or color blocking. Which doesn't work if you want to make your own styles. Or, if you just want a simple straight-forward legging to wear under a tunic, dress, leotard or shorts. To be honest, I can think of many different uses for this simple legging pattern that doesn't involve much more than changing leg lengths and rise heights.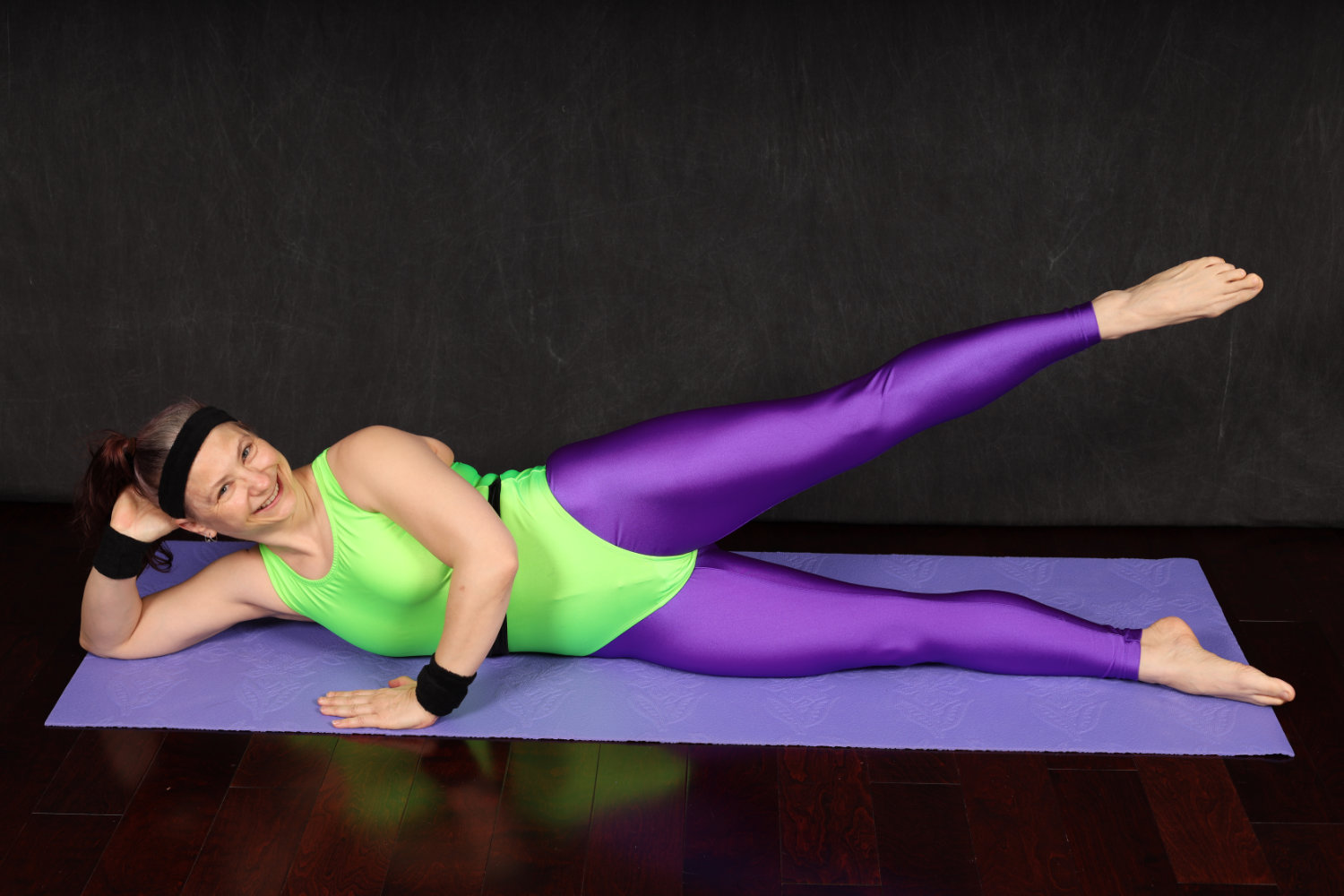 But if you do want to make more elaborate designs those patterns can't be easily made into pants like my capri ruffle pants, and my layered ruffle pants. While a simple legging can.
And I would love to teach you how to design unique leggings to workout in, hang out in or dance in. But, I can't do that if you can't get your hands on a simple legging pattern with no side seam.
Quite frankly, I'm not surprised that a super simple legging pattern is hard to find, but I am a little disappointed.
So, I've take it upon myself to learn to draft a pattern, so I can share that knowledge with you.
It's easier than you might think!