Do you want to learn to sew but don't know where to start?
Get my no-nonsense instruction and sew a useful tote bag.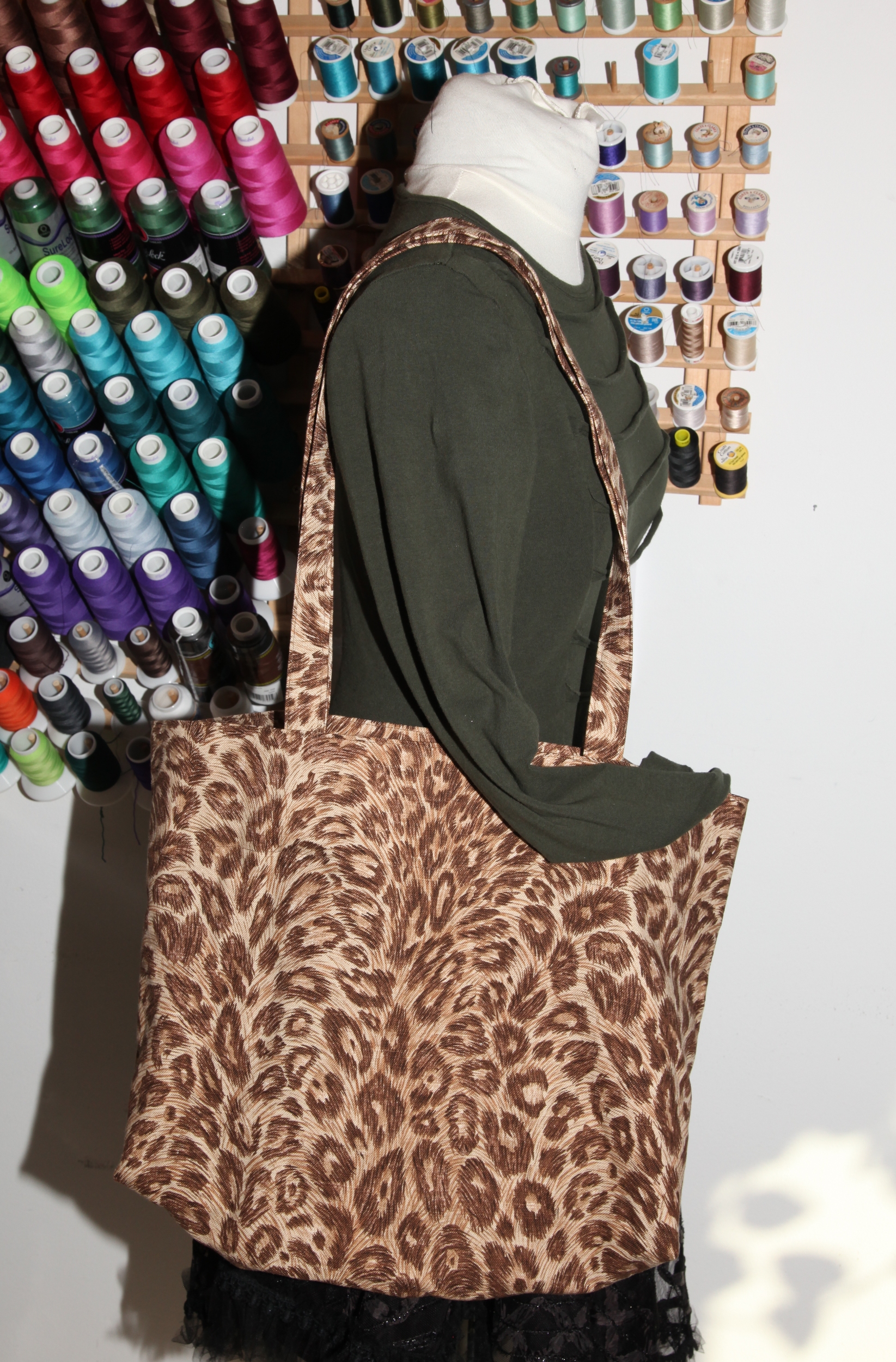 When you are just starting to sew, there is a lot to learn. From fabric selection to sewing terms and techniques, it can be overwhelming.
I remember "learning" to sew in home ec in Junior High. Truth be told, I already knew how to sew. But, in that class, we cut out pre-printed fabric and made an apron and an oven mitt.
I know aprons and oven mitts are useful. But other than learning how to sew two pieces of fabric together and add a bias-binding on the apron, the skills learned weren't that useful. I knew more going into that class than what was taught.
I want to teach you more than that.
Granted, I don't teach how to apply bias binding in this course.
But I do cover tools and equipment, fabric types, interfacing types, using a pattern, and several common stitches.
Additionally, I give you some of my best tips for reducing jams, and speeding your sewing process while still achieving good quality results.
You'll learn how to sew a functional tote bag.
What's the point of sewing, if the finished product isn't something you can or want to use?
You'll even have the opportunity to ask me questions directly on the course platform.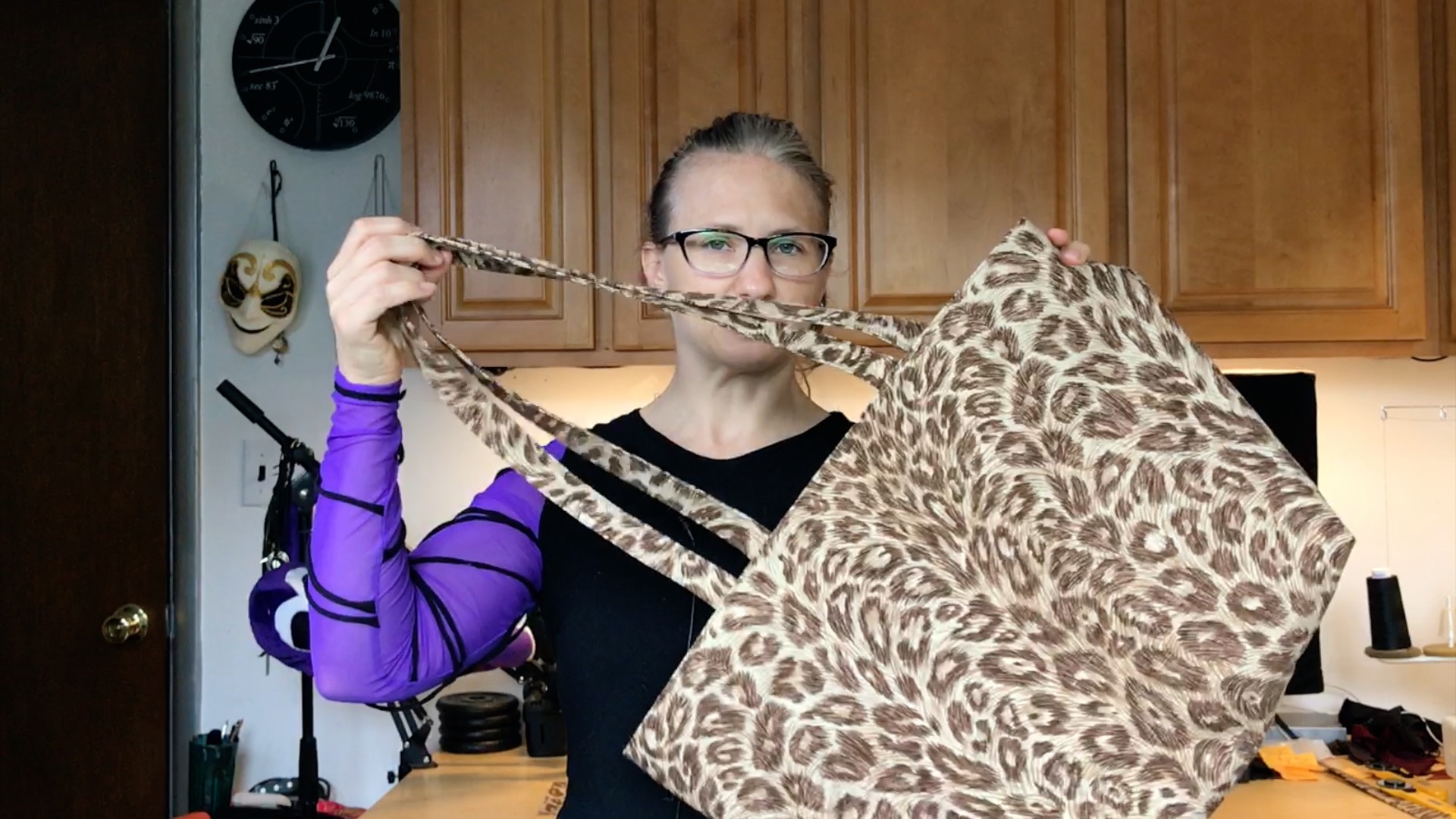 Your sewing project can fail before it even gets started… If you choose the wrong fabric for the job.
There are a lot of fabric options out there. And a LOT of them will work for this tote.
But if you pick the wrong fabric, the tote can be useless.
Or, You can become so discouraged because the fabric is really difficult to deal with.
I have my own personal lists of "devil fabrics". I wouldn't wish them on a beginner.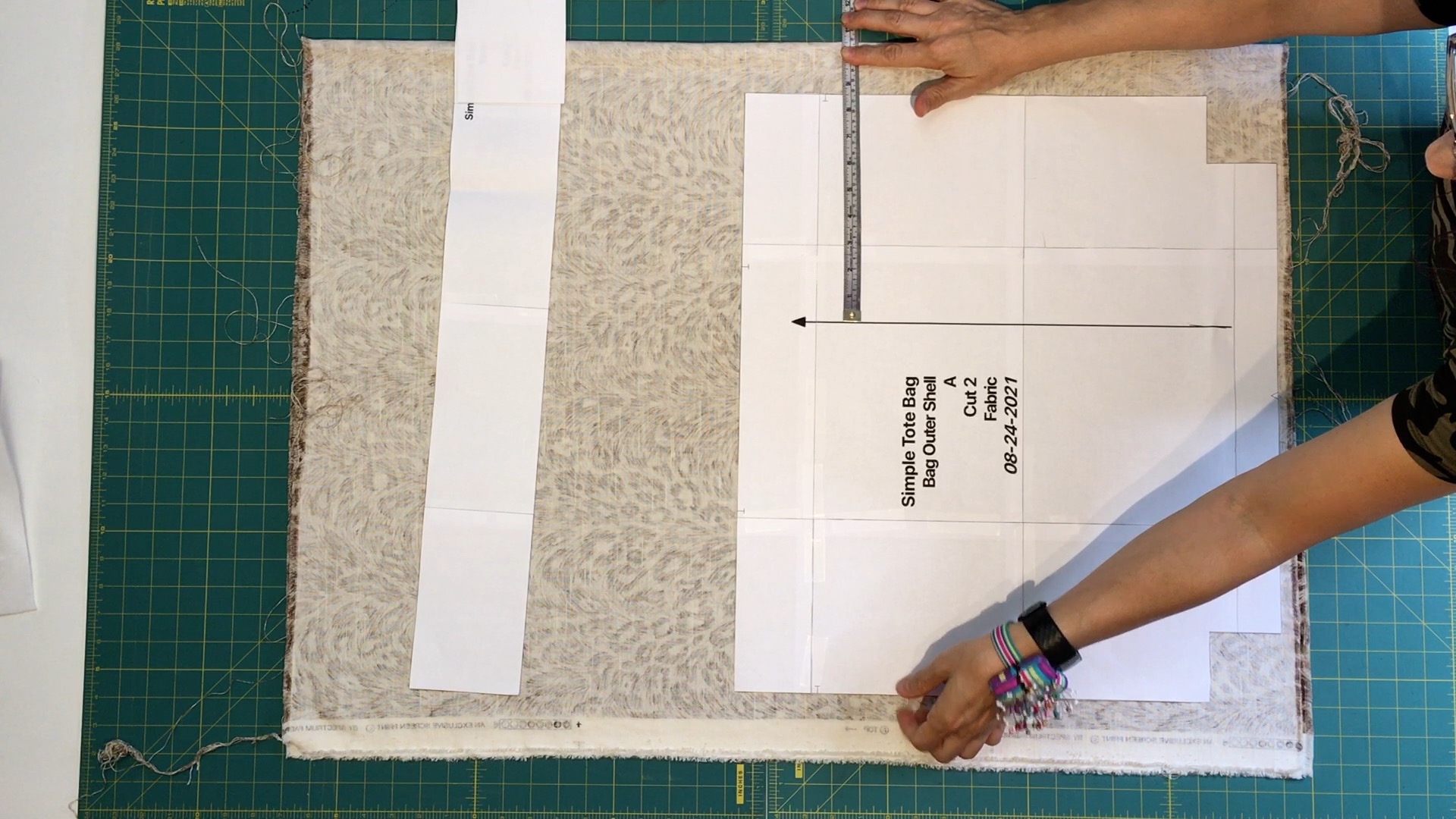 You might have the fabric right, but if you prepare your pattern wrong, or you cut your fabric wrong, you could destroy your project.
There are rules to cutting out fabric that need to be adhered to. (Or at least know when you can break the rules.)
And there are lots of symbols and markings on the pattern that need to be interpreted and used, or you might not have all the information when you go to sew the pieces together.
But it can be like learning a new language.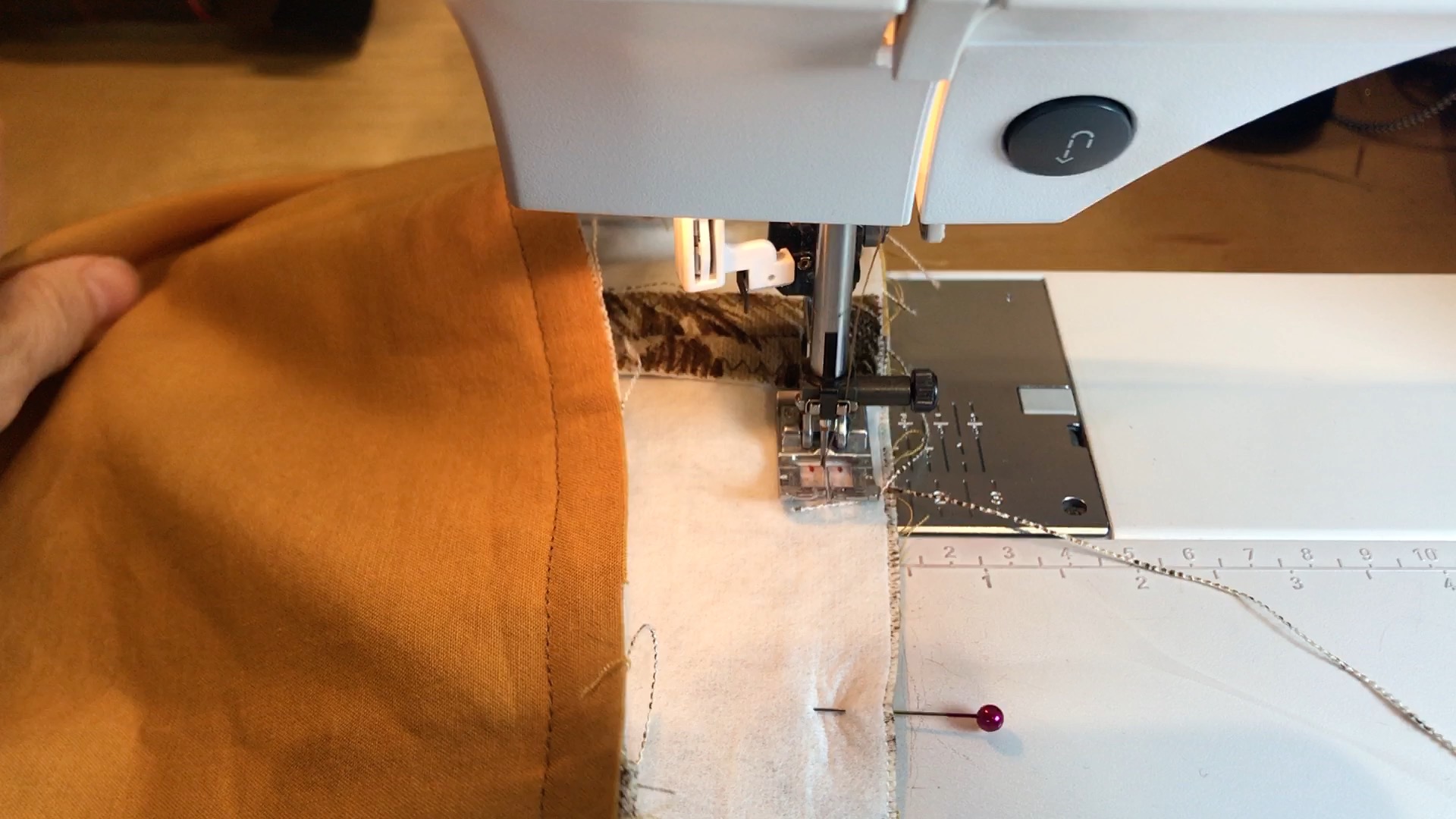 Just like there's an order of operations when making cookies – you wouldn't add the flour after you've baked the dough – there is an order of steps for sewing the tote together.
And again, there are some things that can be done in a different order, but it's again, you need to know the rules before you try to break the rules.
And, not to mention, there are very specific techniques that you should be familiar with. And certain steps that you need to know how to do, in order to get the best and most "professional" looking results.
You can continue to "want to sew" or spend time looking for good instruction online.
OR
You can take this course and learn techniques and get all my tips to save you time and reduce your frustration.
Not Just Another Sewing Video
If you want to learn to sew, you have to start somewhere.
You'll learn about fabric, tools, and techniques.
And, I drop sewing tips for faster more professional results.
But you will also learn some simple modifications you can make to customize your tote.
Want a wine bottle bag to give as a gift? You can do it with this course.
Need a yoga mat bag? You can use the same directions to make one. Get creative and explore the possibilities.
You might as well start with a functional tote. The uses are plentiful.
Being able to make your own clothes and accessories is super gratifying. 
And, it can be cost-effective.
I want you to experience the joy of sewing something awesome.
What you get in the Course
After taking this course, you will be able to cut fabric, understand grain, sew and press straight seams and choose fabric and interfacing for a simple lined tote.
This course is built for beginners.
You'll learn everything from the bare minimum tools needed to some "advanced" tips to maximize your sewing efficiency and prevent jams.
All required techniques are explained, along with other common sewing terms used in this course.
Learn to Sew: Lined Tote Bag Course Includes:
Downloadable Pattern with Sewing Instructions $15 Value

Video Instructions on preparing the downloadble PDF pattern

Fabric Information $15 Value

Basic Fabric Information
Common Fabric Terms
Introduction to Interfacing
How to select fabric for this tote

Tools and Equipment Needed

You'll get tips on setting up your workspace.
You'll get my list of tools that I use in this course.

Step-by-Step instructions (Written and Video) $29 Value

How to layout and cut the fabric with the pattern
Tips to keep you jam free and speed your sewing without sacrificing quality.
Additional Sewing Technique videos that explain the how and why of common sewing techniques.

Pattern modifications to customize your tote. $19 Value
Enabled Discussions to ask your questions and get answers! $49 Value
Get the course for the low price of $29.
You get full access to the course material immediately.
Why wait to learn how to make sewing easier, and faster?
Start building those good habits now.
Frequently Asked Questions (FAQ)
Does the Class Expire? Will I lose Access to the Content?
No. The class doesn't expire. I want to say this is a forever class or "lifetime" access. But I cannot promise technology over that kind of timeframe. What I can promise is that, should technology get wonky, I will do what I can to make the content available to you "forever".
Is there a time limit to complete the course?
No. You can go at your own pace. You can skip lessons you don't need, you can rewatch lessons you want to see again. And I will help with questions that you put in the discussion to the best of my ability.
And you can come back to the course time and time again to make many different tote bags.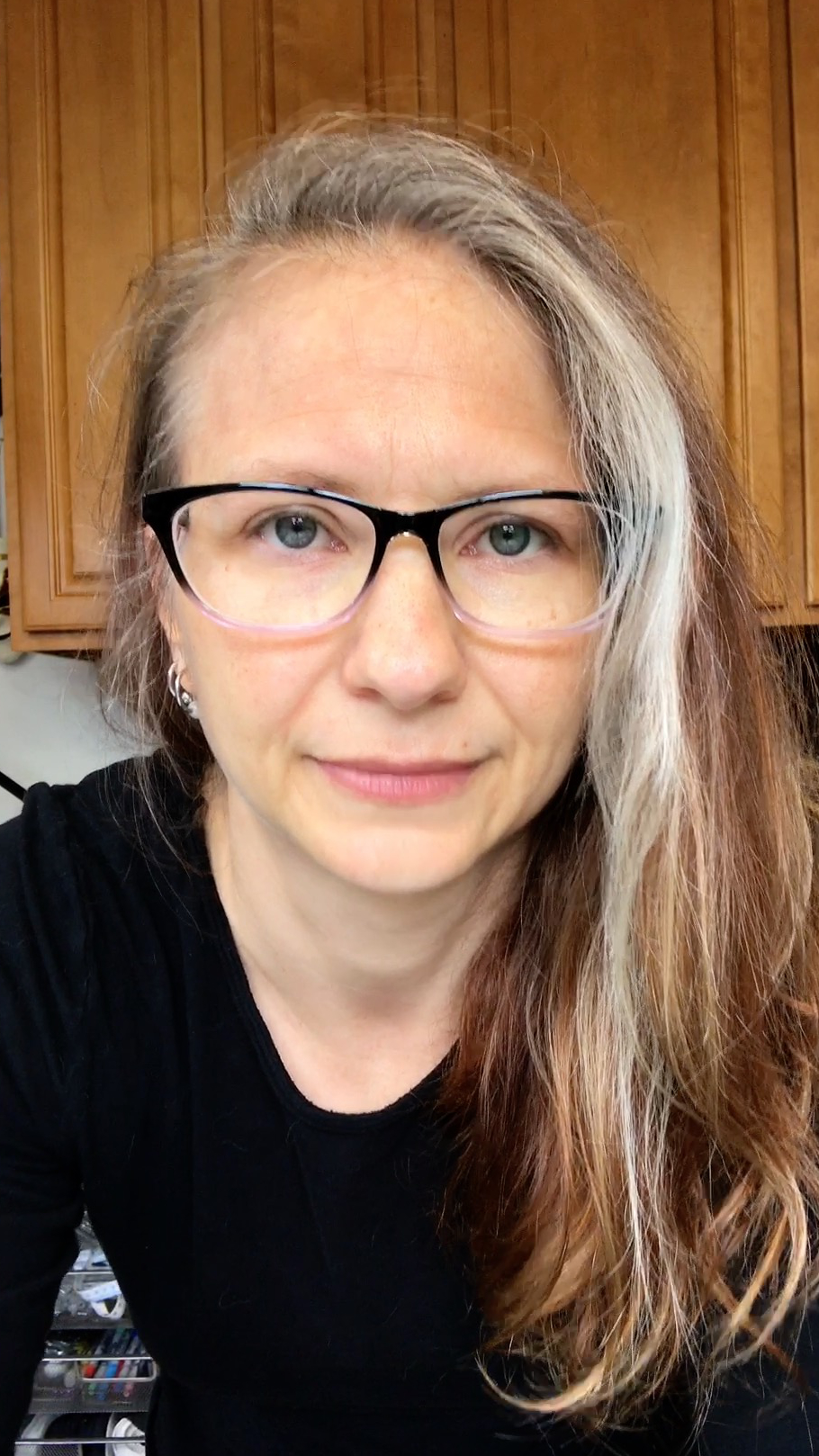 I've been sewing for over 3 decades.
I enjoy the thrill of making unique things.
But I'm not one for futzy or tedious techniques.
I rarely hand sew. I don't have the patience for it.
Not everything has to be couture. Not everything has to be sewn perfectly.
I strive to create awesome things that look professional.
This means that I'm constantly looking for shortcuts and time-savers that don't compromise the quality or appearance of the garment or accessory I'm sewing.
And, I want to teach you what I know.