2020 was a shit year for a lot of folks.
And my real change started in late 2019 when I was laid off.
So, for Christmas 2019 and again in 2020 and for all birthdays in 2020 I decided to make handmade gifts. More on some of the non-mask gifts in a later post.
So, let's talk masks.
I've made shirts, purses, and wallets for gifts in the past (2019 and before) but in 2020 I made quite a few "gift masks" for my parents, and sister.
I just wanted to showcase some of the one-off mask designs I made.
I want to "show my work" and let you, the reader, see my journey.
Also, I know a lot of folks out there think masks are some sort of oppression. But I see them as an opportunity to express yourself.
It's like wearing that ridiculous tie you love because it has the flying toasters on it. (I might be dating myself a bit there.)
Or those crazy socks that can only be seen when you sit but totally express your personality when your suit or non-suit business clothes are dull and conforming.
OR. you can use your face mask to totally complement your attire. Pinstripe face mask with your suit? yes.
Denim face mask with your jeans? sure.
Corset laced mask with your … Yeah, I dunno but I wear mine with my sweatpants on my trips to the post office. Don't judge.
And shredded silver fabric over faux suede mask with your… yeah, that too. I wear this one of mine most of the time.
Face Masks for my Sister
I'm starting with masks I've made for my sister because, to me, they are pretty interesting. LOL.
Partly cause I know what she sews and wears for herself. But I also know that she likes houndstooth.
And I'm going to write about the purse and stuff I've made for her in houndstooth. But. I want to show some of the masks I've made.
I was able to use at least one of the fabrics I used for her purse in a face mask. Here's the fabric in two different masks.
I have a (mostly) weekly Skype sew-date with my sister these days. So, it was pretty fun to be talking to her while sewing her Christmas gifts 🤣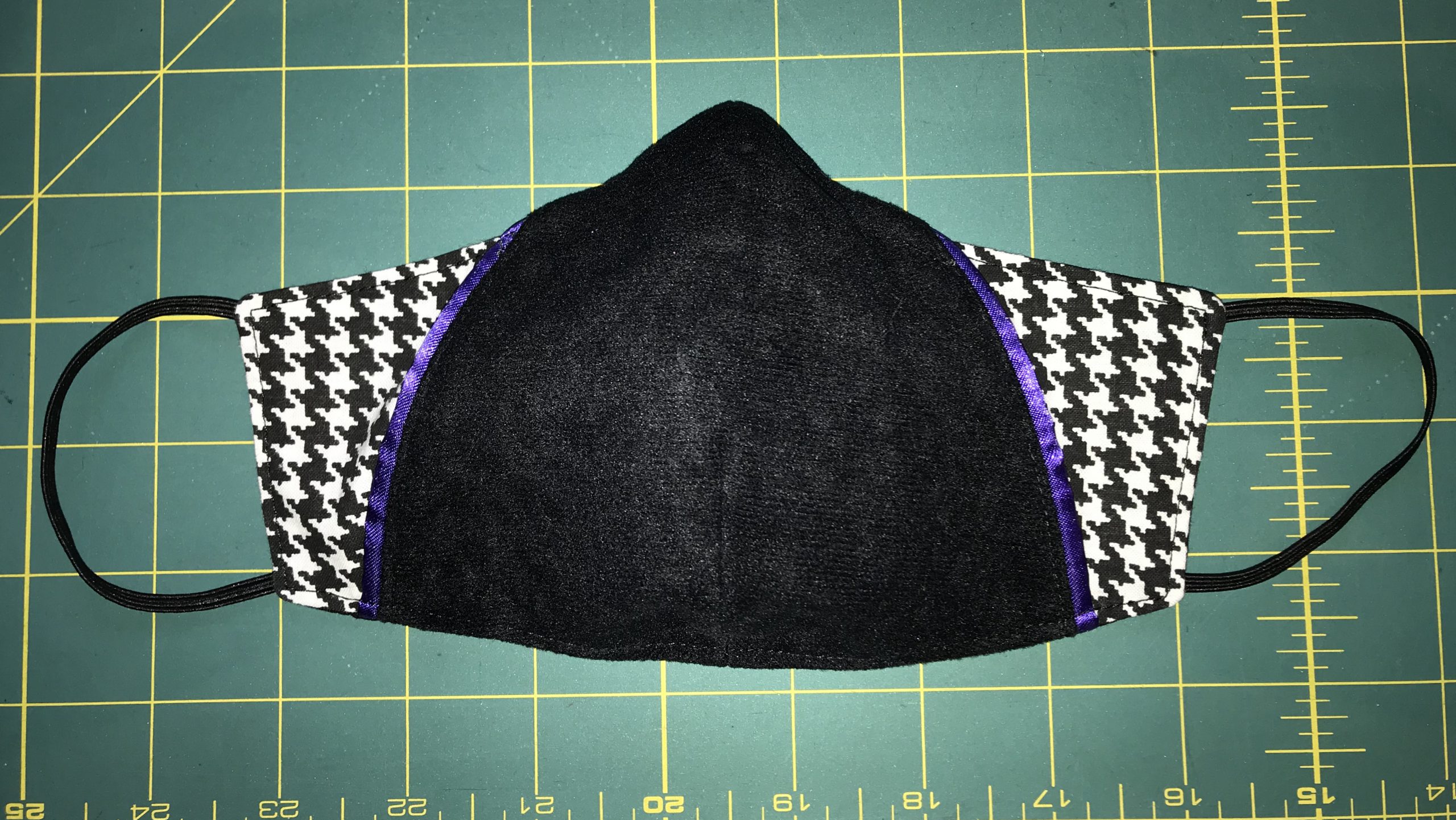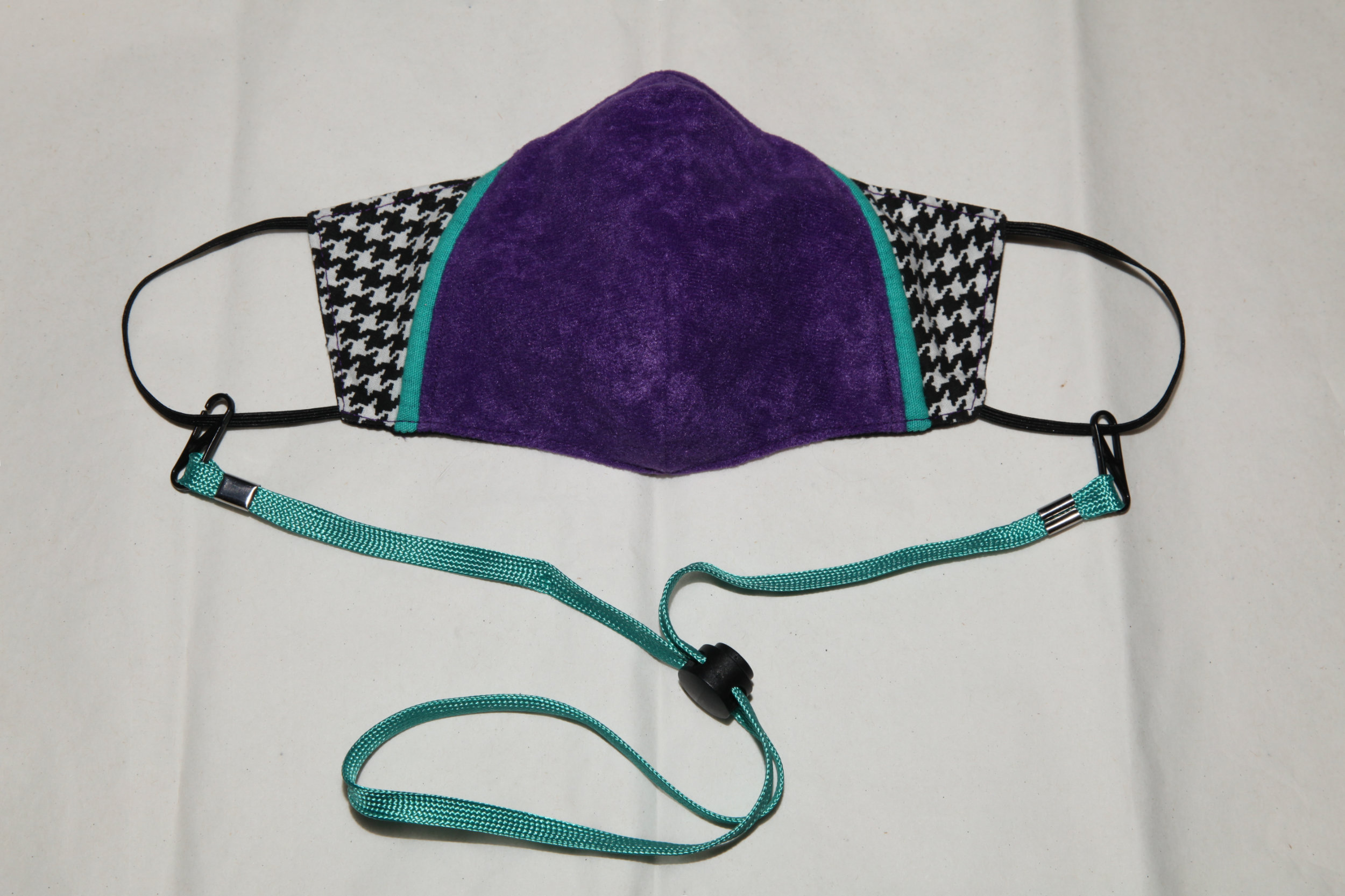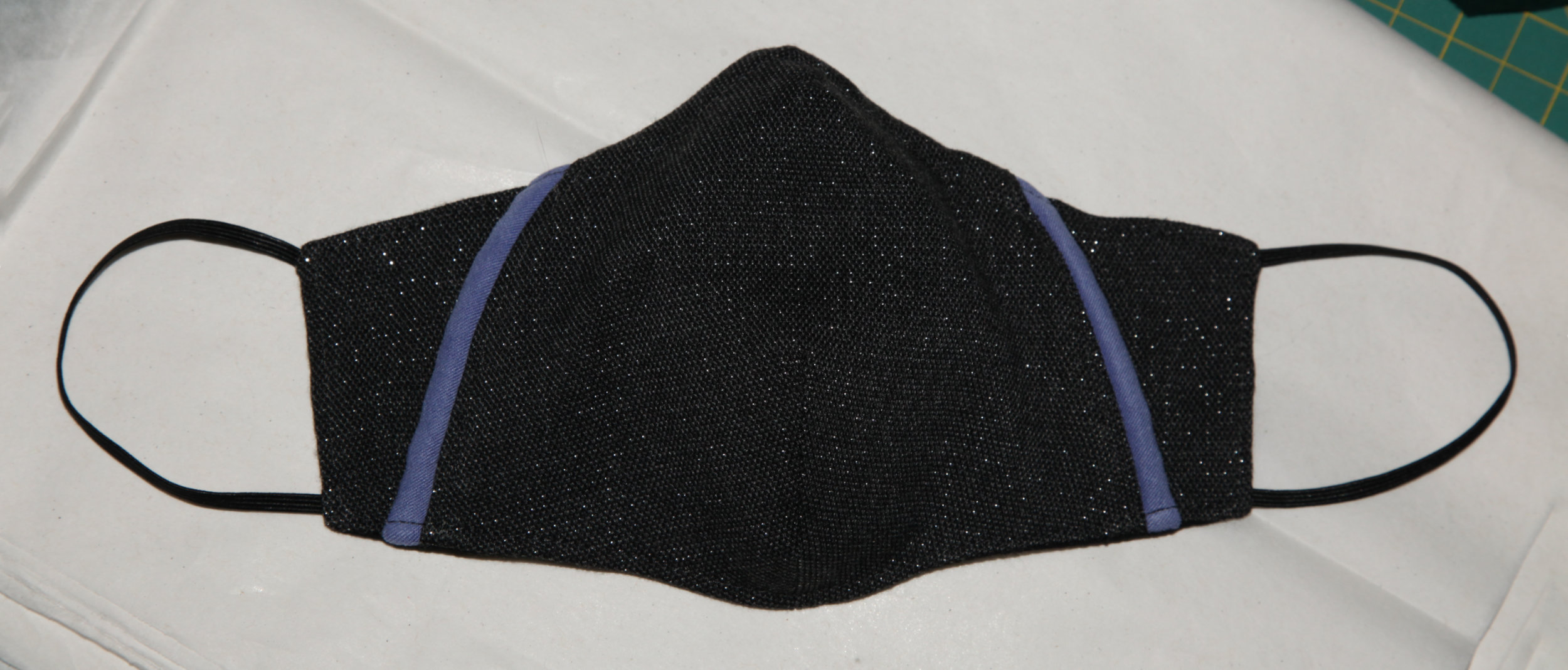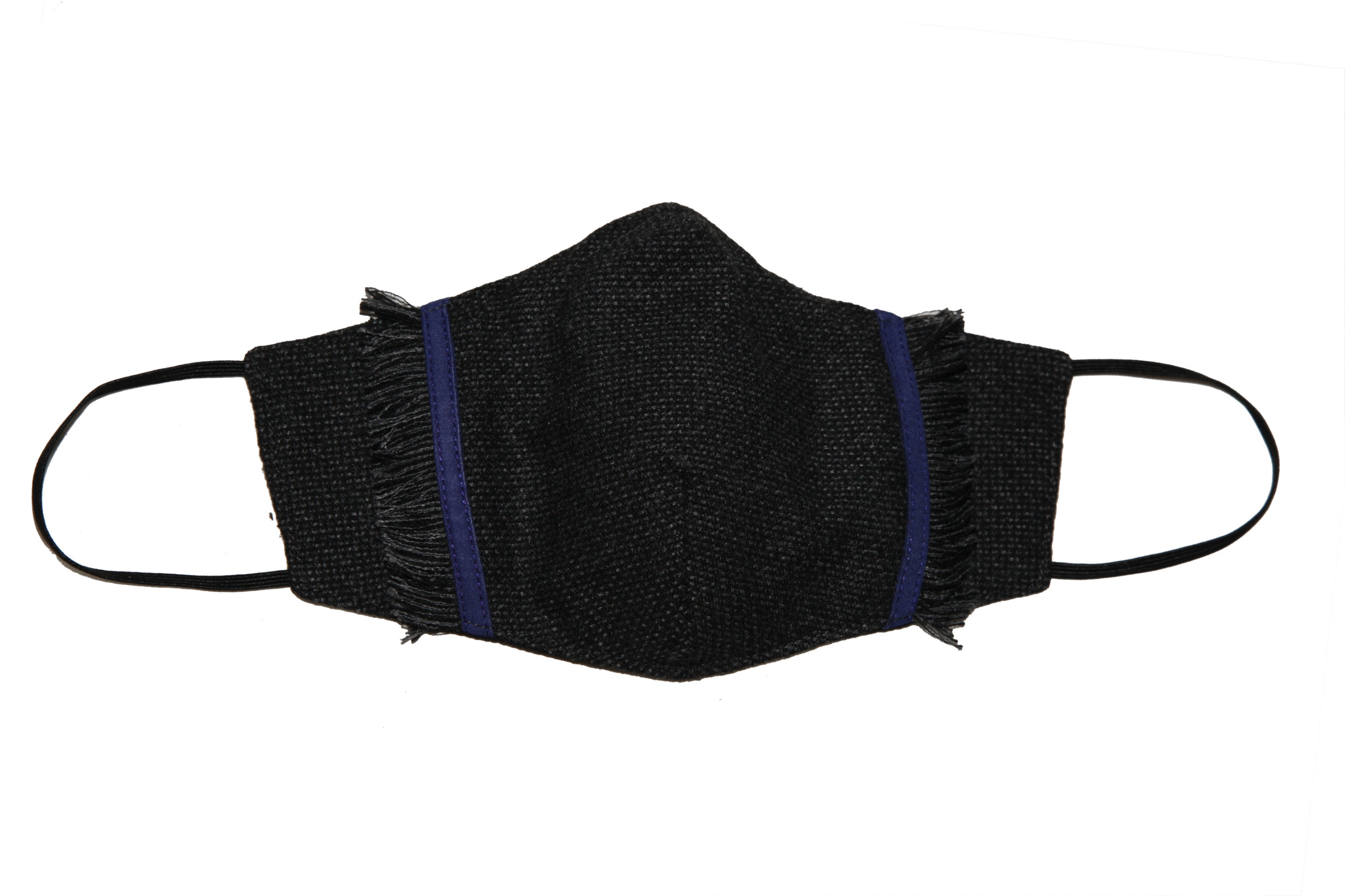 And I remember asking her if she likes "edgy". Cause I had this … thing… in mind.
More on that in a bit.
I also know she works … and has to wear masks so I thought I'd make her a couple of "professional" masks. One with sparkly suiting (and purple).
And the other trying to capture the essence of the iconic Chanel jacket with the fringed tweed.
But her favorite? Yeah, it's the Edgy one. 😄
Zippers.
It's kind of heavy though. So. … I'm sure she'll let me know how it holds up with washing.
Plus. it was the most difficult to sew and trim and turn right side out and it is soooooooooo not perfect.
Thank goodness she's my sister and she overlooks those things… mostly. 😉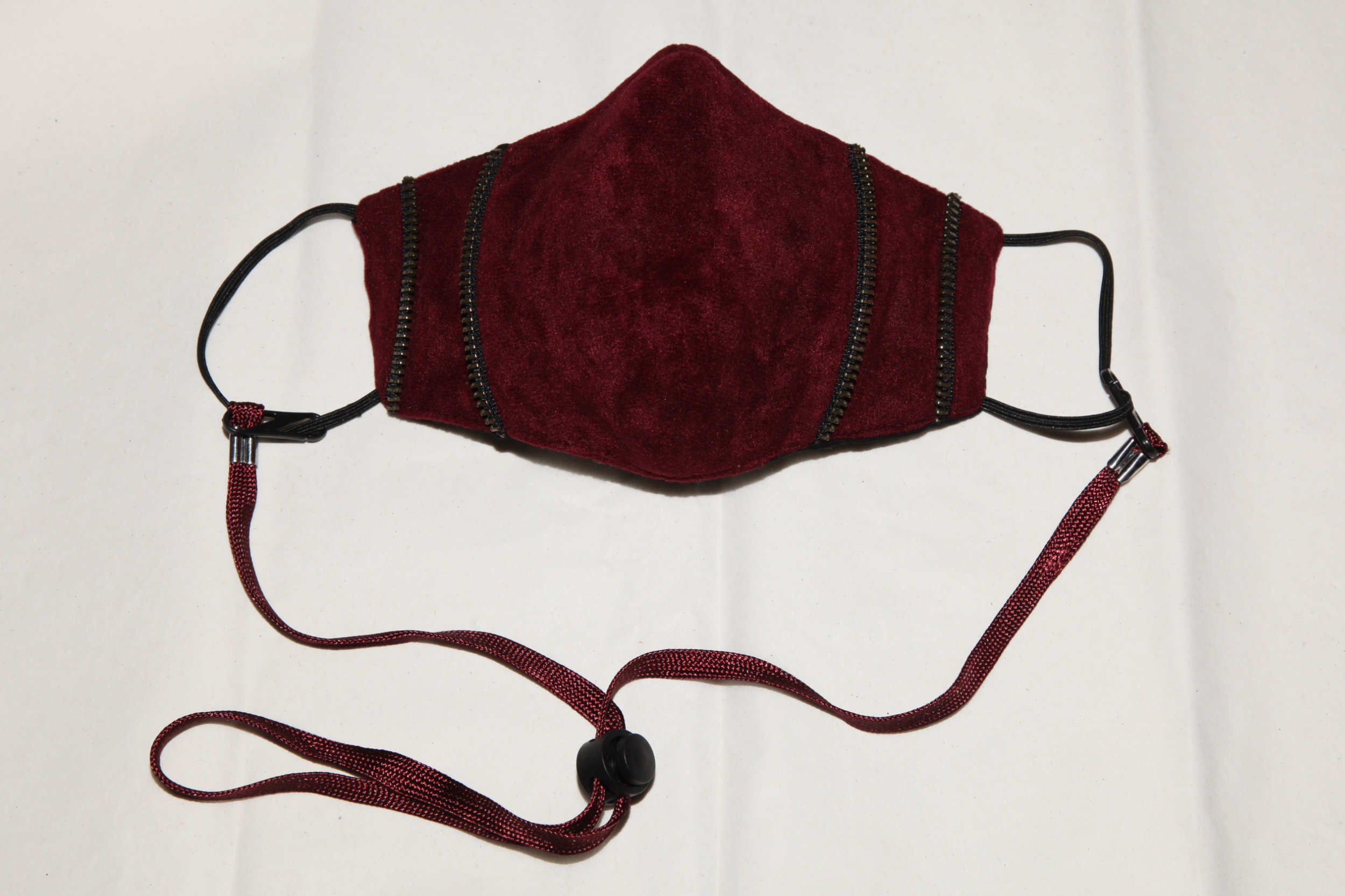 Face Masks for my Mother-in-Law
So She's not really my in-law. legally mostly now. nevermind.
Anyway. I wanted to make something nice. Something that looks good but isn't too flashy.
My boyfriend's mother reminds me of a super down-to-earth health-conscious person. She's not flashy. She is practical. But c'mon a paper mask?
So, I decided to make a few masks that have a more earthy vibe to them.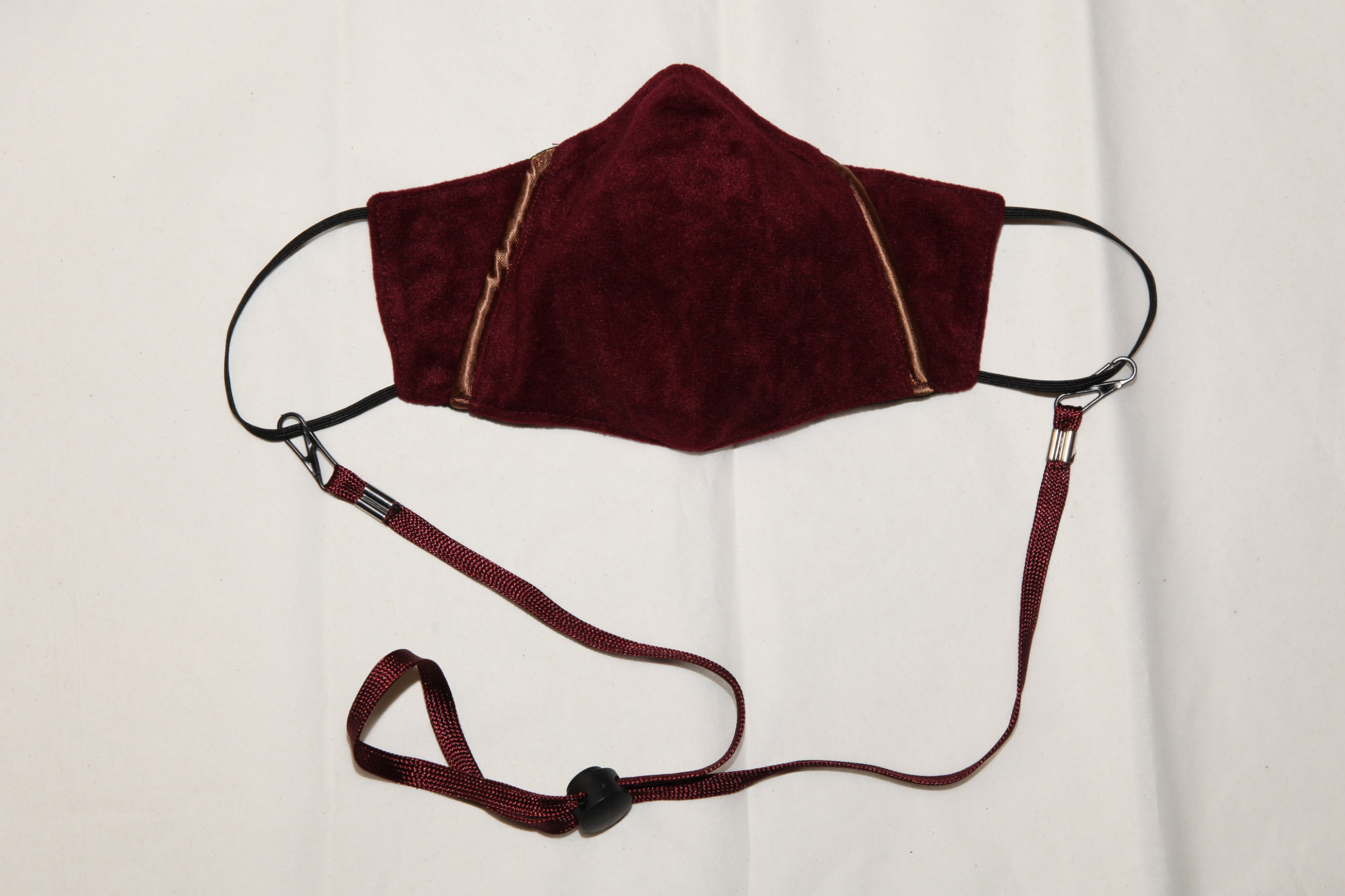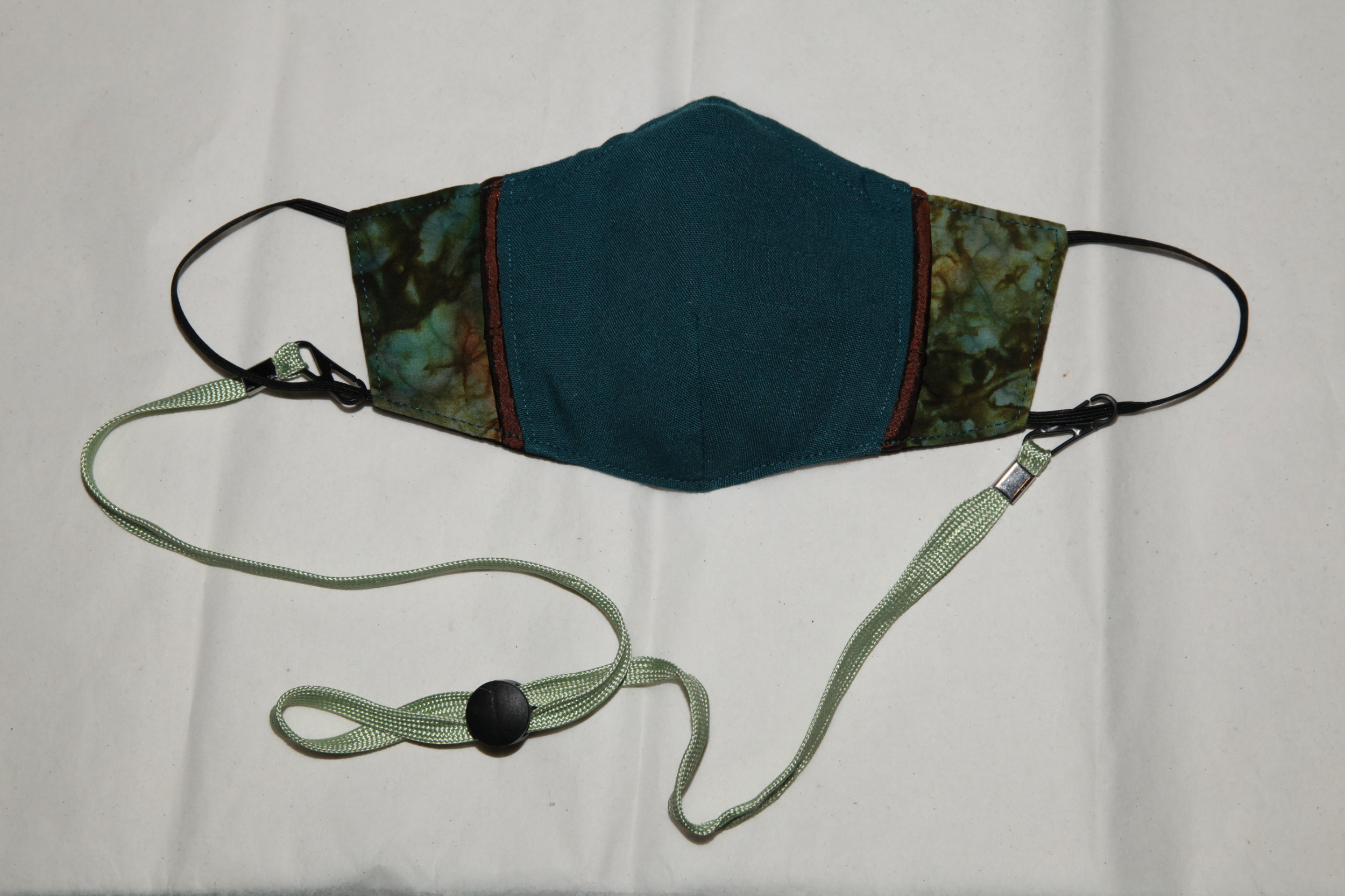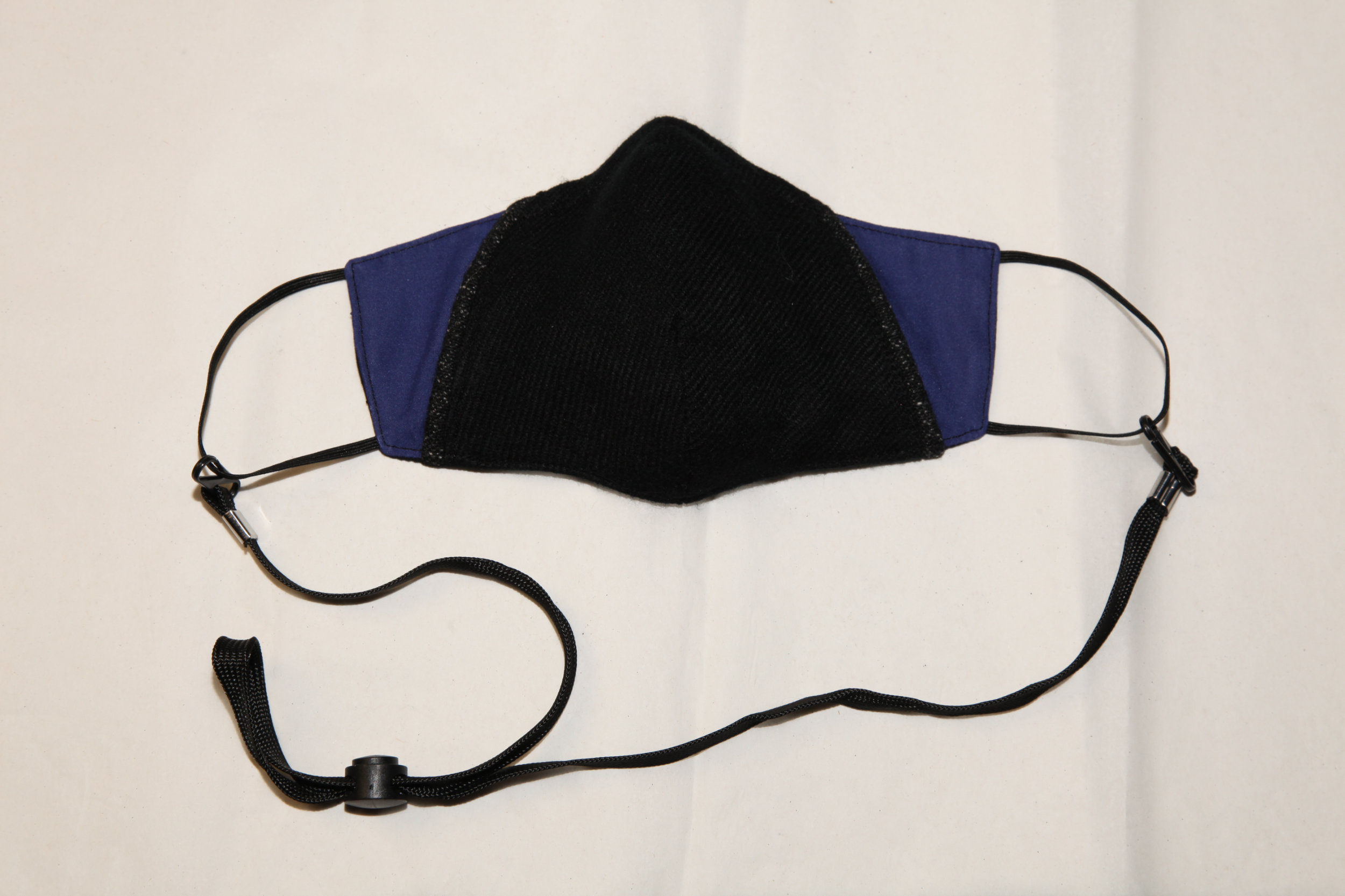 And then I also made a nice suiting and purple mask for her. So, the purple-ish fabric used in this is actually a sueded polyester fabric that I referred to in a previous post. I used it for roman shades originally.
It's pretty but not breathable, so I can't use it for the main body of the mask, but for side panels? Bring it on.
I love the gradient from dark to light on this.
Face Masks for my Mom
My mother has supported me in this sewing endeavor for a while.
I mean, she initially taught me to sew. But then when I decided to sew for a living, she has supported me.
I made her a special mask that I hadn't made yet for the site.
But then I wanted to make her a truly unique mask for her birthday. I used fabric that I had left over from a purse I made her several years ago.
And I matched the pinstripe to the lining of the purse.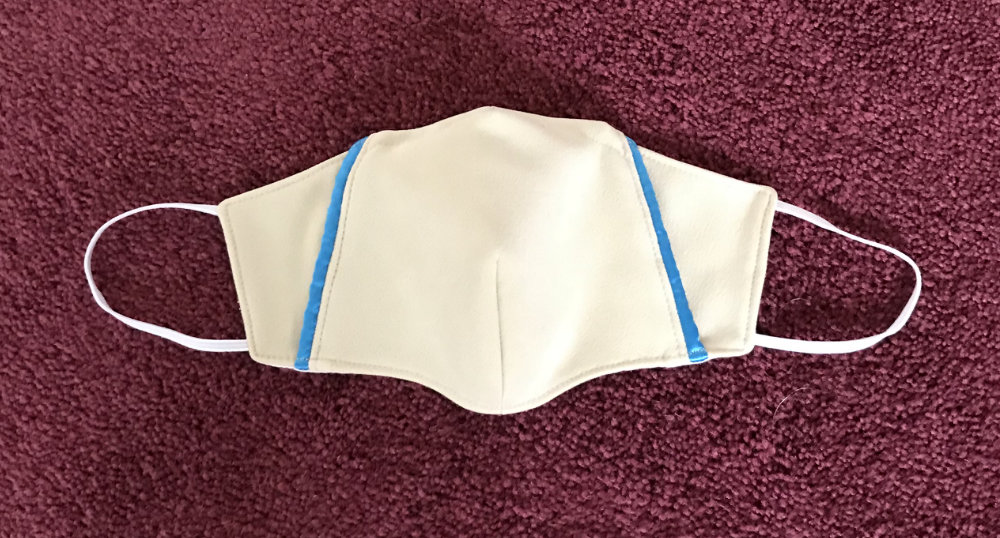 For Christmas, I wanted to give her an earthy, and two sparkles. Evidently, we don't share the same tastes in aesthetics… LOL.
Ok, so my mom isn't Goth.
Anyway, I wanted to give her some special masks that are not satin or purse-matching. 😉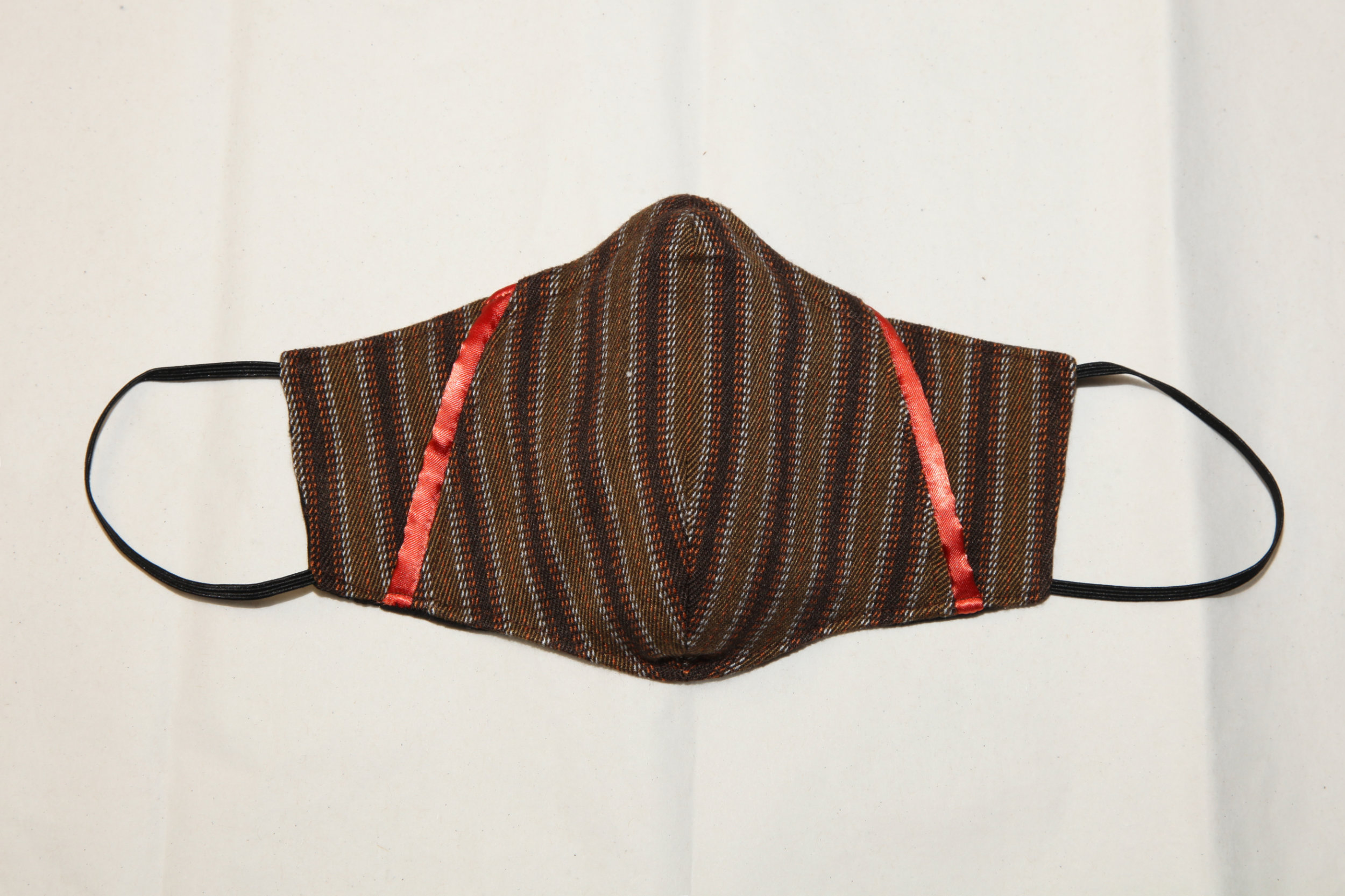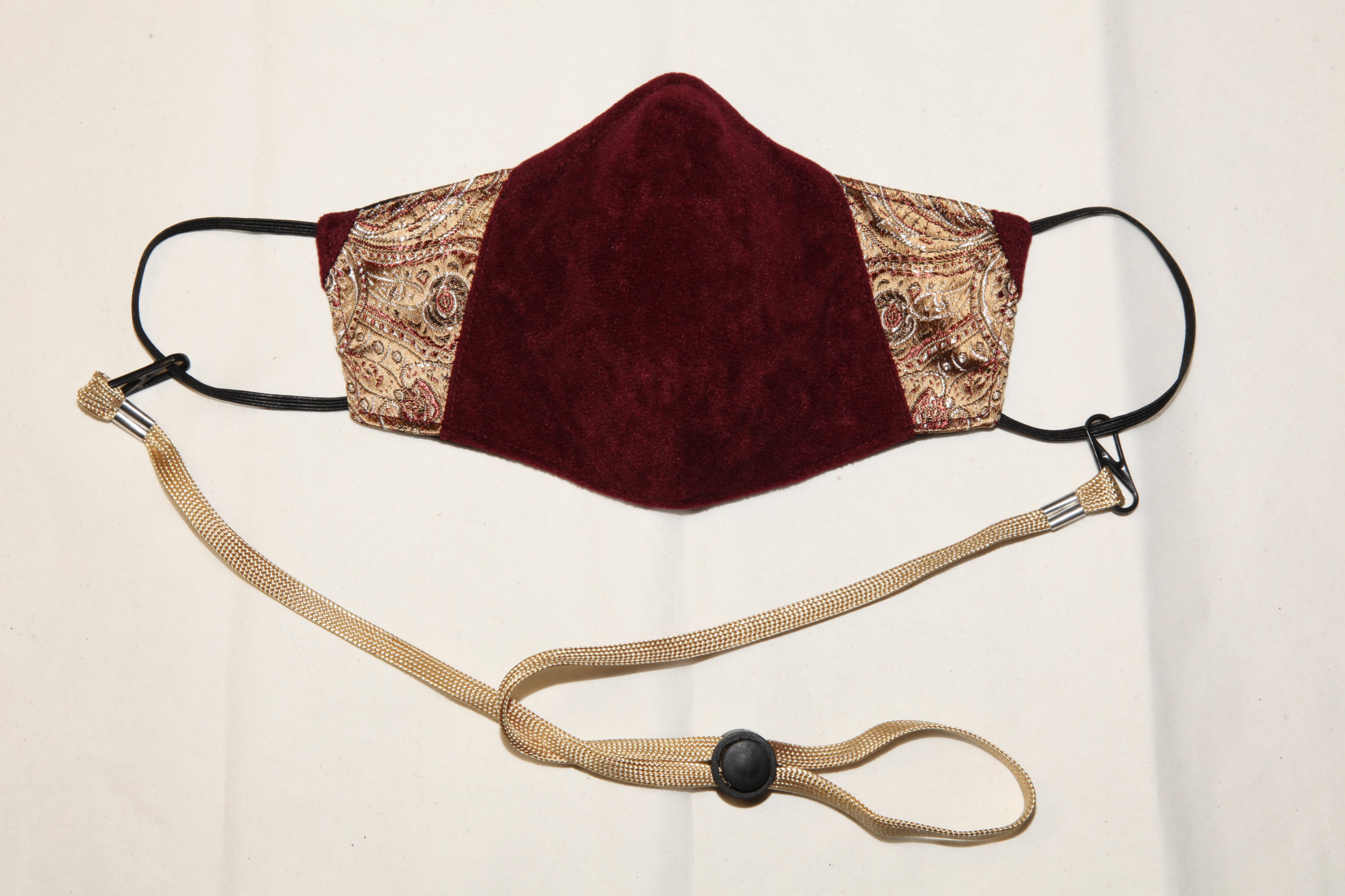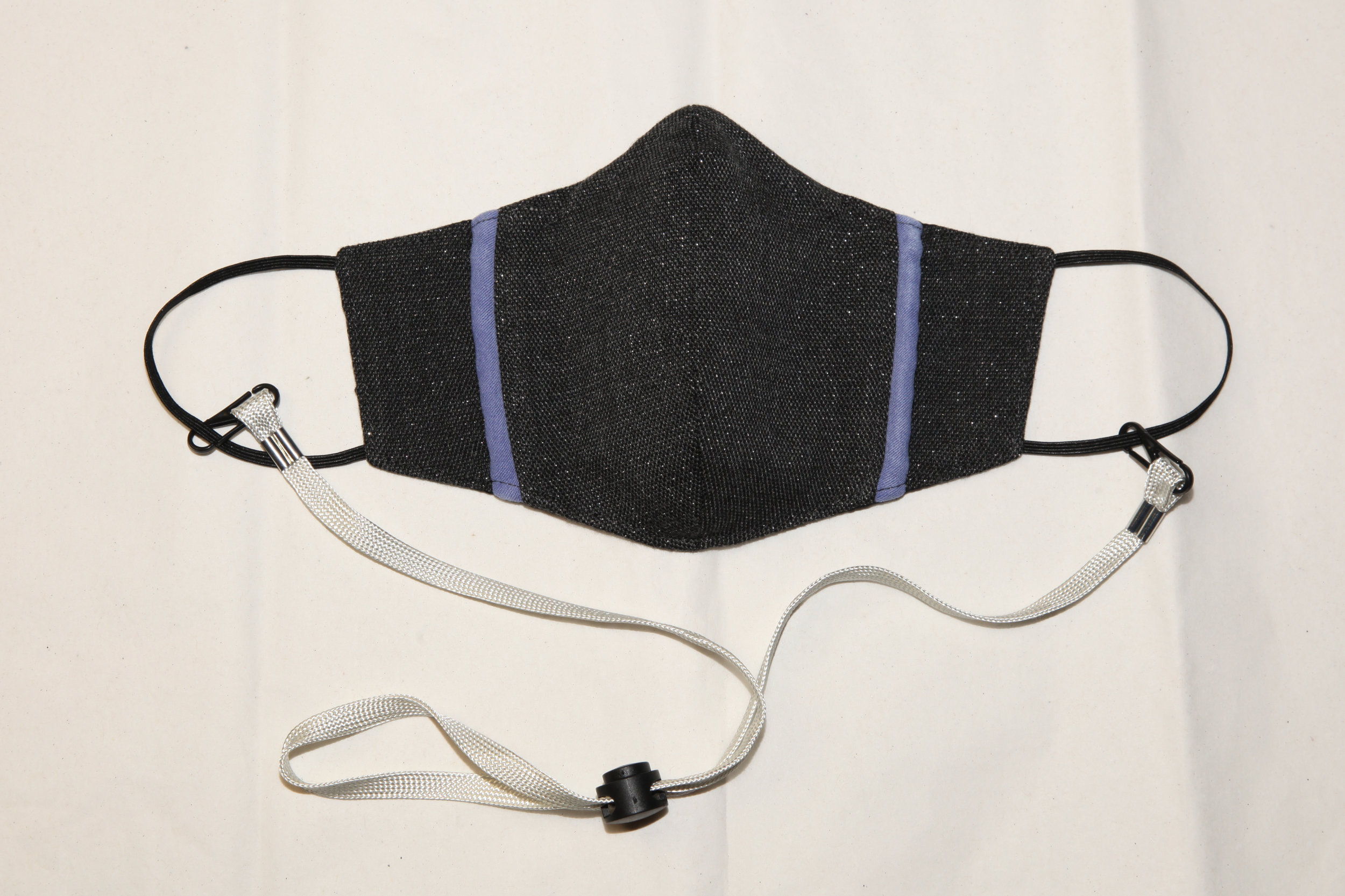 Face Masks for my Dad
My dad has also supported me in this sewing endeavor. And… he keeps losing his masks.
So, I wanted to make him a few for Christmas. I made him some "nicer" masks out of suiting fabric with nice pinstripes.
I promised him I wouldn't give him pink. And really, he's not into satin but he tolerates the satin piping on the suiting….
I also wanted to make him something that was more polished and not with satin piping.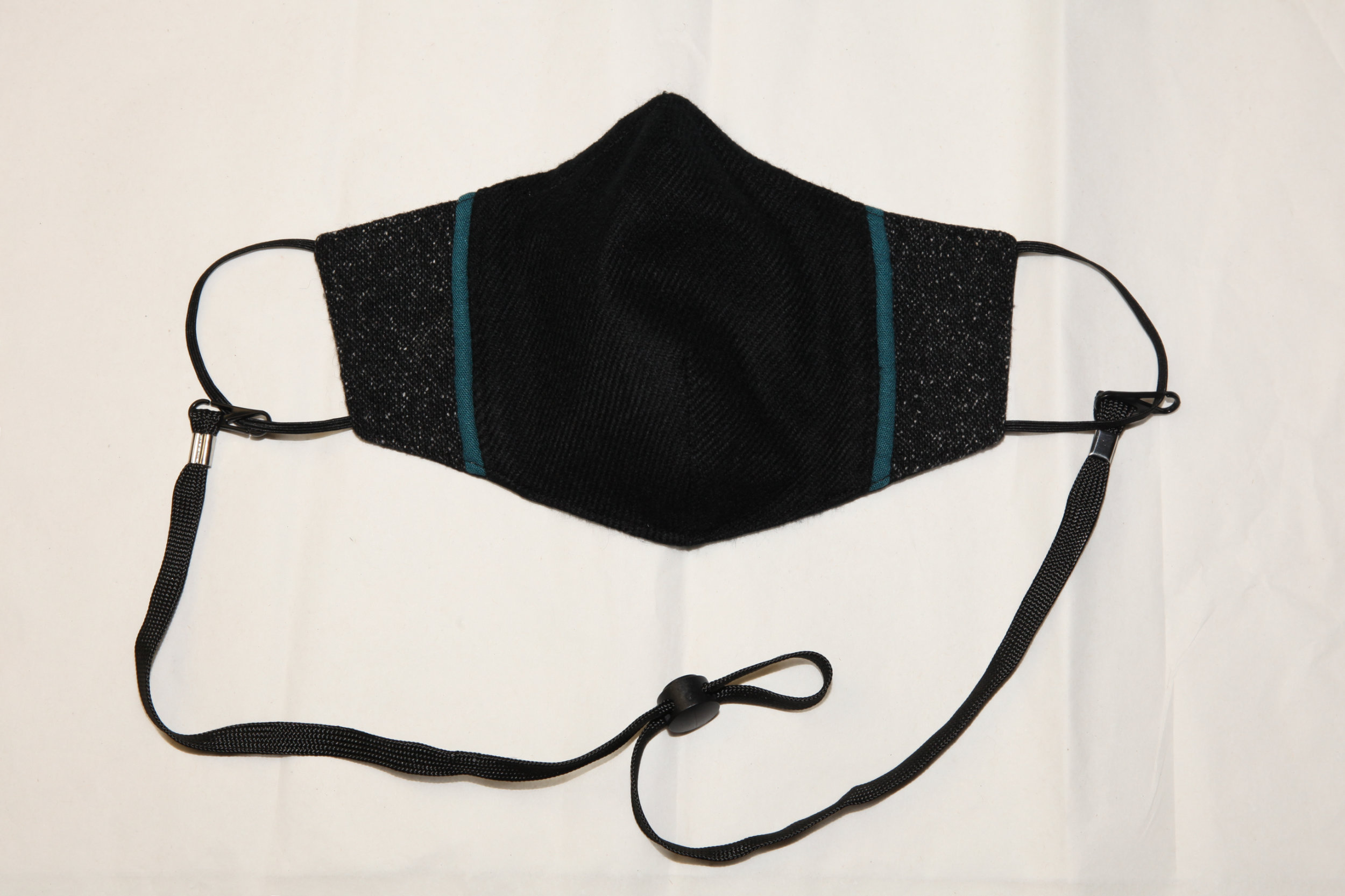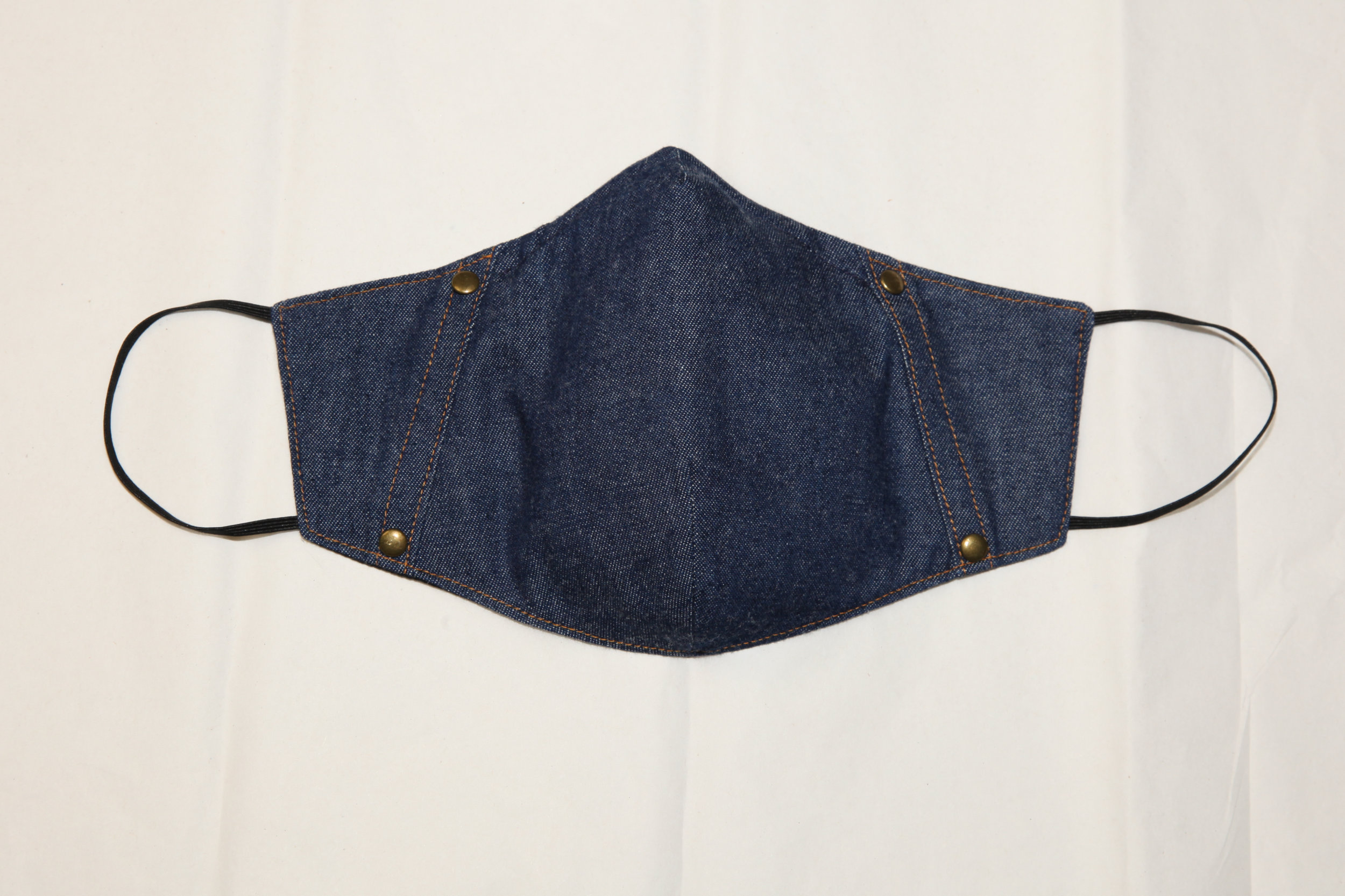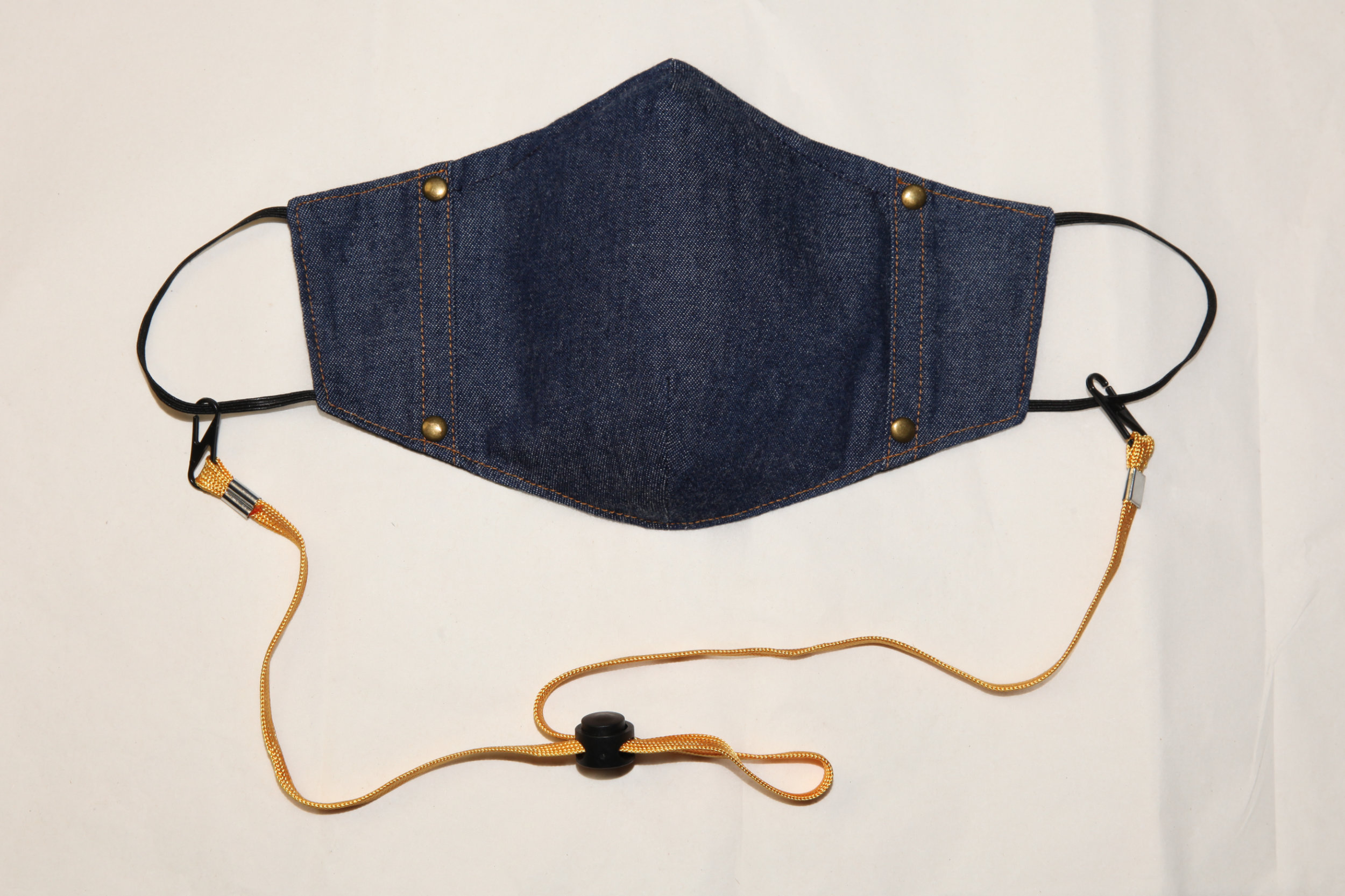 But, then I also made him some denim masks. With rivets.
And fake flat-felled seams.
I just wish I could put suspenders on it too, cause… how fun would that be?
So, there's making fun masks and there's having fun making masks.
And then you have me: having fun making fun masks.
I just wish that wearing them was as fun as making them. But, if you have to wear them. You might as well have a little fun with it.
There's no reason we can't have fun with it. And if your fun is whimsy? Go for it! There are TONS of fun masks out there. I've seen a bunch on Etsy, (not just mine).
I use a lot of products for my DIY. As such I may recommend products or companies. In some cases, I may get a small commission when you click on the links or use the provided coupons (at no cost to you). As an Amazon Affiliate, I earn from qualifying purchases. You can read the full disclaimer here.