Sewing should be fun. In this day and age, it's relatively inexpensive to buy clothes. But, while there are really good reasons to sew your own clothes, a lot of them don't hold up if you don't find the act of sewing enjoyable.
Like many hobbies, you can do a lot of things with a bare minimum of tools. (In sewing most tools are called notions). But like most things, having better or specific tools can make things so much easier, efficient, and therefore, more fun. The tools listed here aren't critical to your sewing success. But if you are looking to invest in your hobby, these are my recommendations.
Cool Sewing Notions for Sewing Efficiency
When writing the essential tools for sewing clothes article, I sat down and really considered what I couldn't sew without. I had to separate out what I use almost every time I sew and couldn't imagine sewing without it from what I really needed to have to sew. What follows are my top 5 additional sewing notions to get in addition to your sewing essentials if you have the means (and why).
Thread Snips or Nippers
Bodkin
Point Turner
Rotary Cutter (and Mat)
Pattern Weights
I use a lot of products for my DIY. As such I may recommend products or companies. In some cases, I may get a small commission when you click on the links or use the provided coupons (at no cost to you). As an Amazon Affiliate, I earn from qualifying purchases. You can read the full disclaimer here.
Thread snips, nips, or nippers as I learned to call them back in the day, are little palm-sized, spring-loaded scissors. They have a short blade section and are, therefore, more handle than blade. They fit in the palm of your hand and are super fast for snipping threads after sewing. Because of their size and shape, they are more efficient for snipping the threads. They also are easier to wield, and therefore, more accurate when cutting. You can quite easily get super close to the fabric with these without snipping the fabric accidentally. This is largely due to their short blade configuration.
I have several pairs of these, and keep one by each of the machines I frequently use.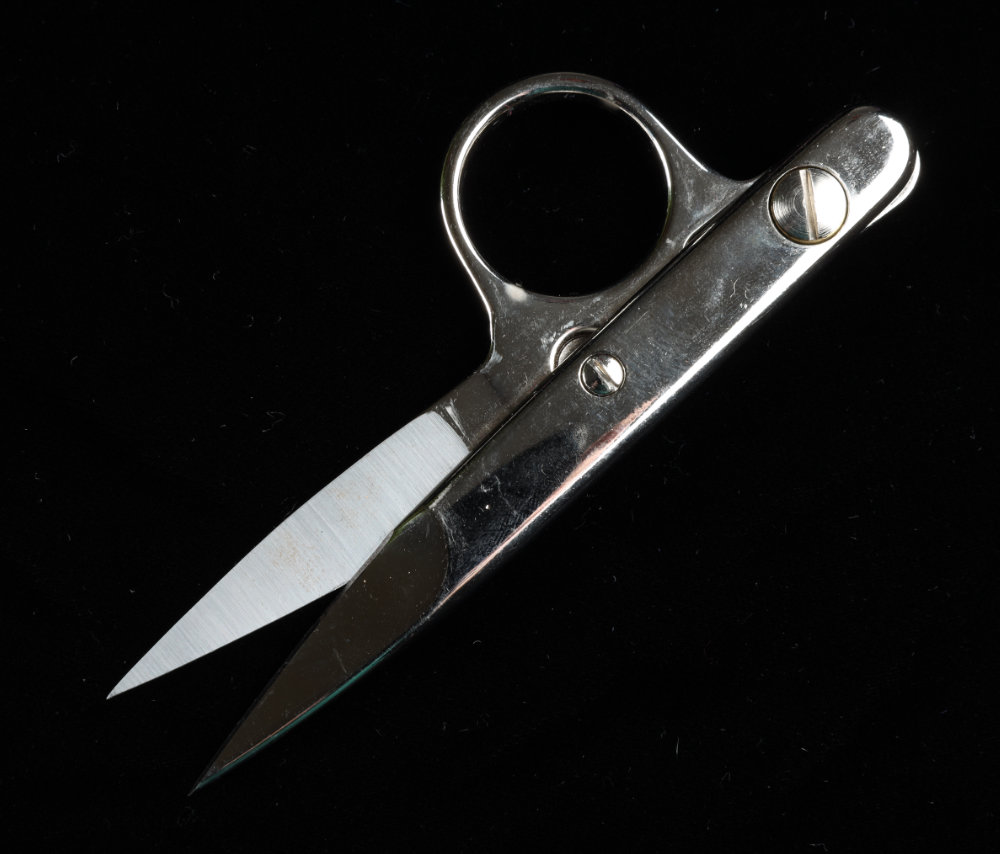 Thread Snips, Nips, Nippers 
Bodkin
There's a song by Astronautalis called "Holy Water". In it, there's a line "stick a sewing bodkin, right inside your eye". Man, that would hurt. I don't recommend it.
What is a sewing bodkin? It's a super cool tool used to thread something (elastic, string, etc) through something (waistband casing, hood drawstring casing, etc).
There are two main versions of a sewing bodkin. One type clamps on the end of whatever you need to pull through. This is useful for flat-ish things like elastic. The other version is a pointy tool with a hole at the end where you'd thread whatever through it. Mostly, now you'll find the clamp type available. But if you inherit a pointy tool with a hole in the end that looks like a dull overgrown needle, it's probably a bodkin.
And yes, you can just use a safety pin. But, the thing is.. if you are stringing elastic through a waistband casing, it really helps to have a LONG safety pin (Or sewing bodkin). The longer the better, so unless you have a 4-6″ Long safety pin (that can still fit through the casing and not put too big of a hole through your elastic, a bodkin will be a better bet.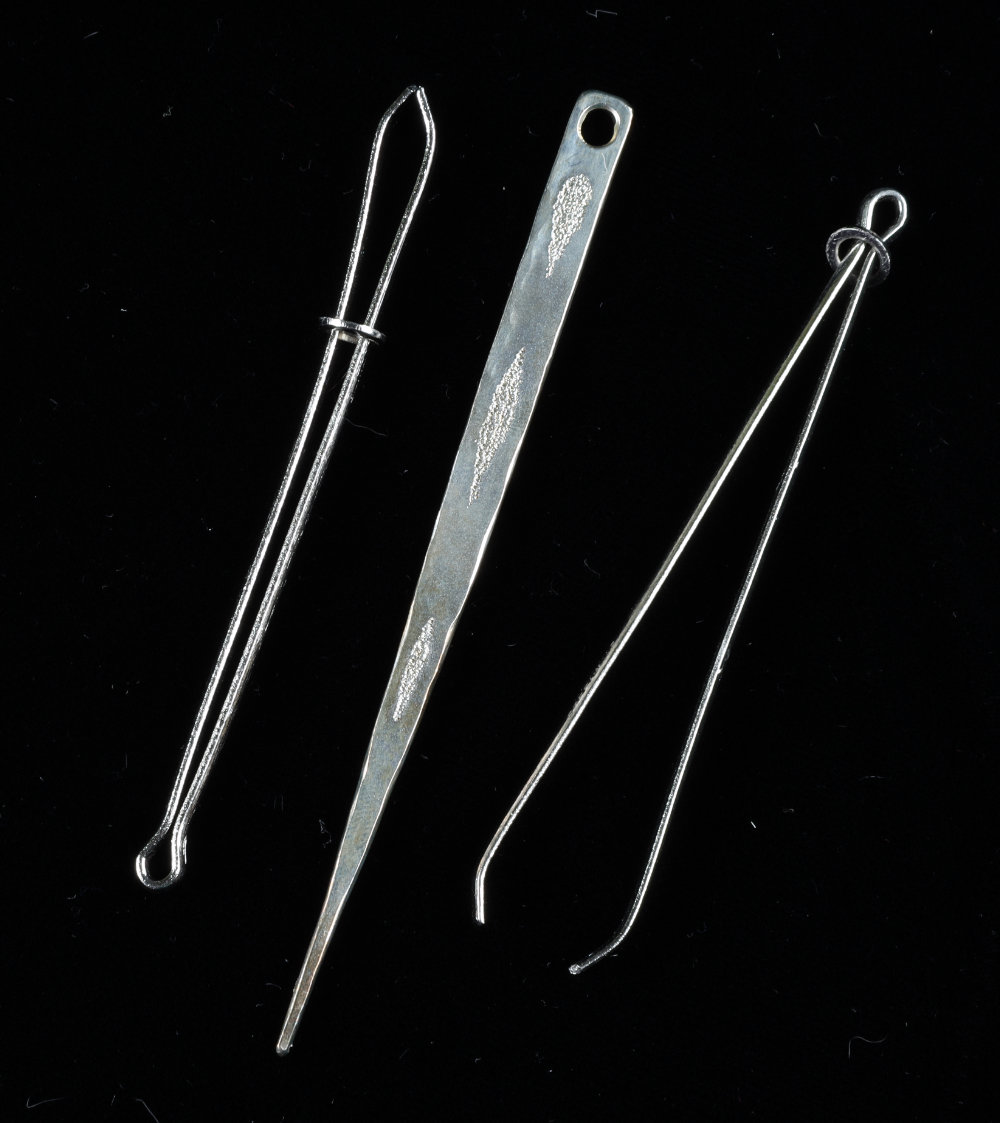 Two Styles of Sewing Bodkins
Sure, bodkins aren't failsafe. I've had one let go of elastic more than once, and it's annoying. But it's still better than a safety pin. Use the safety pin to secure the other end of the elastic to something outside the casing so you don't end up pulling that end through. That's just as annoying as losing the pulling end.
Point Turner
There are a few tools out there that are useful to help you turn something right side out. One of them is a point turner. I actually recommend getting both a tube style tool and a flat point style tool. But if you can only get one, then it's best to decide what you'll be making the most of, then get the tool that you'll use most frequently.
For example, if you are going to make belts, or long tubes of things such as wallets, straps, the style of point turner that I recommend consists of at least one dowel rod and either a second one you can butt up to it or as in my photo, a plastic tube. These two implements (the dowel and tube or another dowel) are used together to turn a narrow thing from inside out onto the other implement right-side out. It's best if you have a dowel that has a semi pointy tip that you can poke at the corners without poking through. I don't recommend scissors or seam rippers for this. A knitting needle or medium-sized crochet hook could work.  Here's the kit from Amazon.com.

A point turner as in this photo is actually really useful for turning out points that are near a larger opening such as that on a collar, an open waistband, or the bottom of a wallet or checkbook. It works with your thumb and fingers to turn the whatever right-side-out while almost simultaneously poking the corner out as well (without poking through the corner).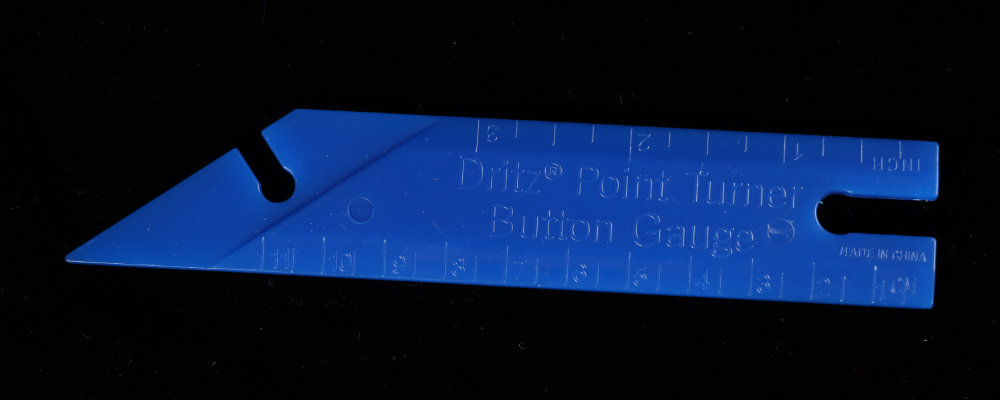 While you will need a good pair of scissors, if you are going to do a lot of sewing, I highly recommend getting a rotary cutter and mat. A rotary cutter makes short work of cutting out large pattern pieces. It's also great for cutting strips of fabric. They come in many sizes and must be used with an appropriate cutting mat or you'll mar your work surface. The smaller sizes are best for sharp curves, and almost work for inside corners. But alas, they don't work great for inside corners, so you will still need the scissors for that (and snipping notches).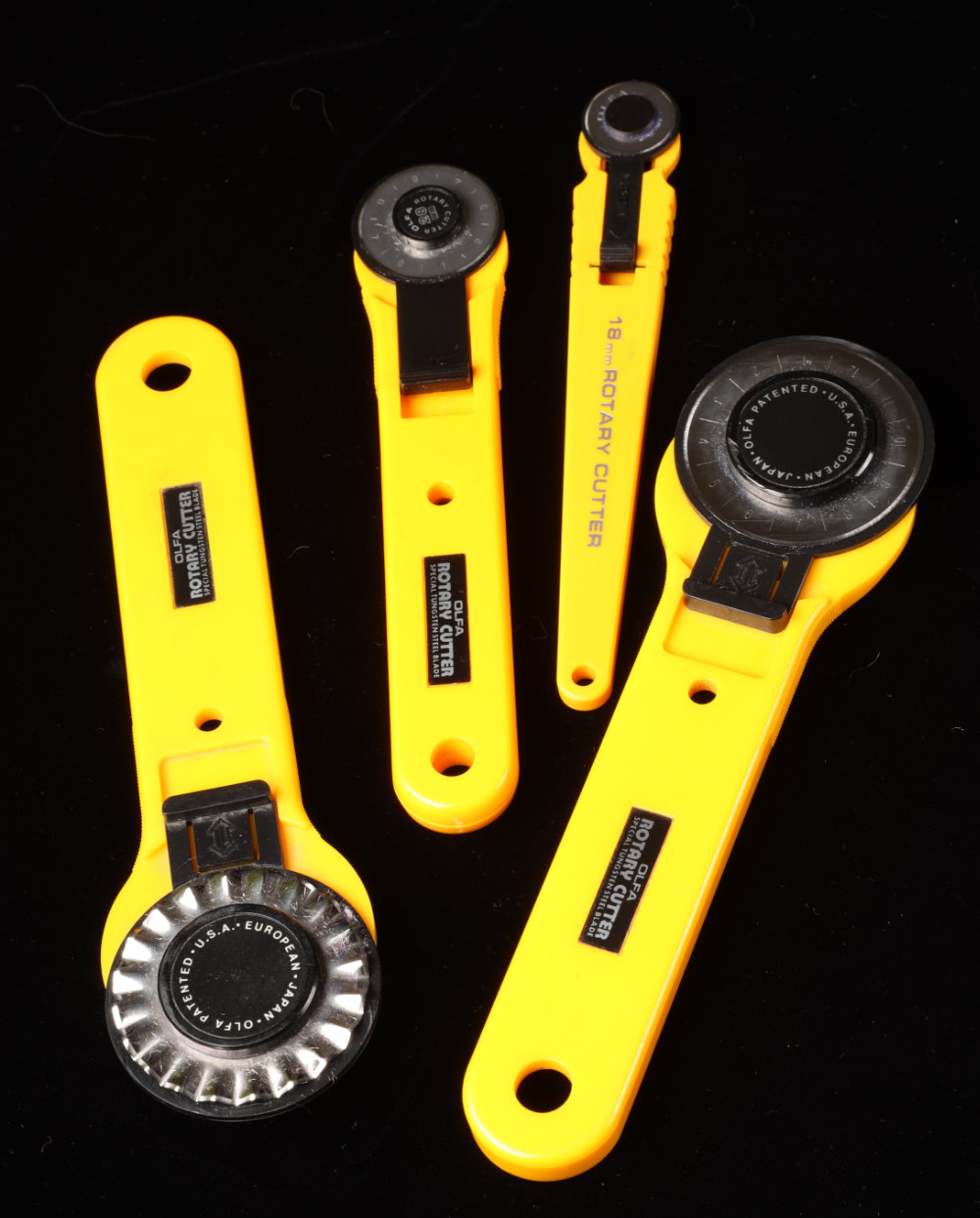 Rotary Cutters in Different Sizes
Another thing you can do with a rotary cutter (other than cutting your own fingers) is stack cut. What is stack cutting? Well, if you know you want to make multiples of the same garment (in the same size), you pile the fabric (carefully) up on itself and cut through all layers at once. I don't recommend it for high pile fabrics like velvet, the layers can slide around a lot. I'd also recommend not doing it on a fold, so if you have a piece to be cut on a fold, trace it out to be a full piece and lay your fabric flat and cut the piece "unfolded".
I haven't done a lot of stack cutting since I have been making a lot of garments that are test sizes with test alterations. But, when I can, rotary cutter as much as possible.
You can also get a wavy blade for your rotary cutter which acts almost like pinking shears.
Also, I save my old blades that are too dull to cut fabric, and I use them to cut paper, patterns, and other things I'm not supposed to cut with my fabric tools. 😀
Pattern Weights
Pattern weights are a great companion to the rotary cutter. This way, you can lay out your pattern and not have to pin the tissue to the fabric. There's always a little wiggle when you have to pick up the fabric to pin the pattern to it. By just placing weights, it makes it so much easier. It also eliminates the risk of snagging delicate fabric with not-so-awesome pins.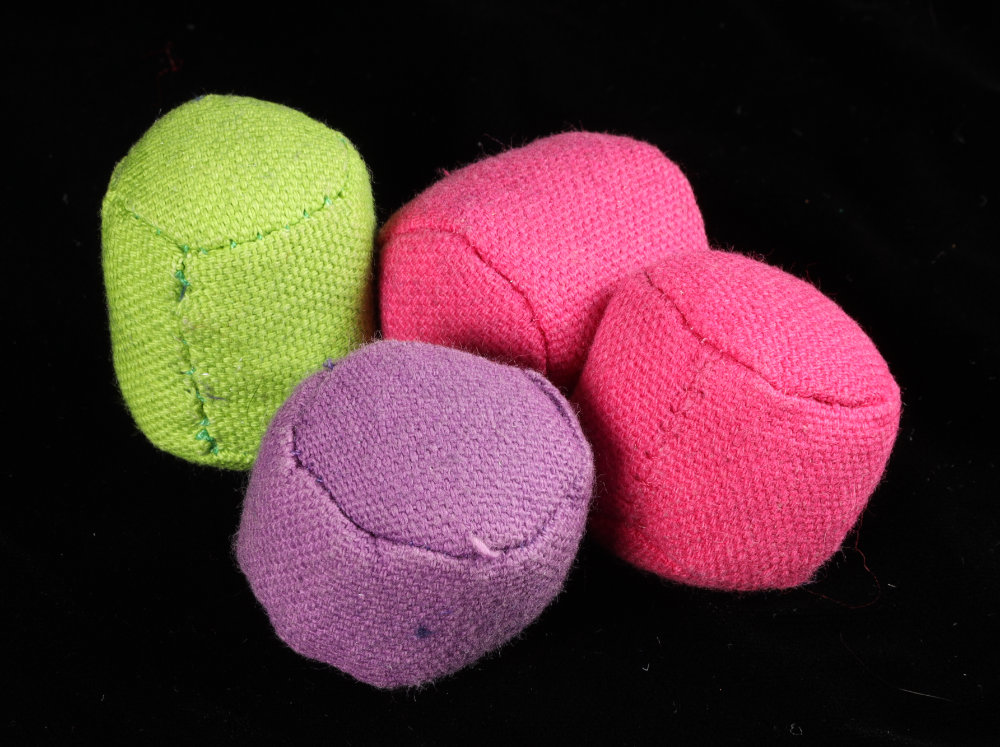 However, if you are stack cutting or cutting double thickness fabric, be mindful that pattern weights don't keep all the layers together as well as pins would. So, you do have to take care not to push stuff around.
You can purchase little fabric weights. Or, you can make your own out of heavy washers and other things. If you choose to make your own, be mindful that you keep metal ones free of burrs that could snag your fabric, or cover them with something protective like a heavy canvas or duck cloth.
Sum Up
With so many notions out there vying for your hard-earned cash, it's easy to get overwhelmed. Beyond the basic essentials, this is the top 5 notions (tools) that I recommend investing in. These will make sewing more fun and efficient.
If you're looking for more sewing tool badassery, check out: